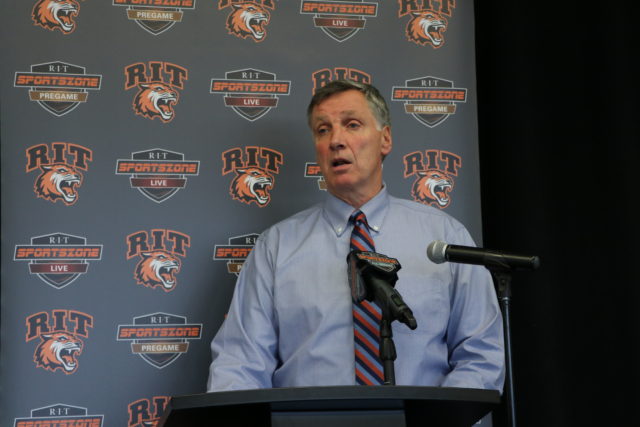 ROCHESTER, NY – The RIT men's hockey team opens up the 2018-19 season with an exhibition contest against Wilfrid Laurier University at 7:05 p.m. from the Gene Polisseni Center on Saturday, Oct. 6.
Tickets for Saturday's game are available at the Gene Polisseni Center and Gordon Field House Box Offices, or by calling (585) 475-4121 or by visiting www.rittickets.com.
Saturday will mark the 10th straight year that RIT will face a Canadian University in the season-opening contest. RIT is 9-1 against Canadian teams over that span and has won 17 of 18 contests against teams north of the border since 1999.
RIT returns 20 players from last season's squad, including 11 forwards, six defensemen and all three goaltenders. Senior forwards Erik Brown(Keene, Ontario/Kemptville 73's) and Abbott Girduckis (Belleville, Ontario/Wellington Dukes) will serve as captains in 2018-19. Brown is coming off a breakout season for the Tigers in 2017-18, setting a Division I team record and finishing third nationally with 29 goals, while earning All-Atlantic Hockey First Team accolades. Girduckis recorded a personal-best total of 27 points in 2017-18 and enters his final season with 57 career points on 20 goals and 37 assists.
The Tigers open the season with a roster of five seniors, seven juniors, eight sophomores and seven freshmen.
Wilfrid Laurier, located in Waterloo, Ontario, competes in the Ontario University Athletics Conference. The Golden Hawks enter the weekend having played in five contests, going 2-2-1. Last season, Wilfrid Laurier finished 16-16-4 overall and 15-10-3 in OUA play to finish fourth in the OUA West standings. Wilfrid Laurier advanced to the OUA West Quarterfinal round.
The all-time meeting between the two schools is even at 3-3. Tonight marks the first meeting between the two schools since 2010, when RIT skated to a 3-1 win at Ritter Arena. Chris Haltigin, Jeff Smith and Adam Hartley scored for the Tigers in the win.
Next weekend, RIT opens the 2018-19 regular season, Oct. 12-13 on the road at UMass Lowell of Hockey East. On Oct. 20, RIT welcomes Colgate University to Blue Cross Arena during Brick City Homecoming & Family Weekend at 7:05 p.m. It is the 12th straight year RIT will play downtown during its annual homecoming weekend. RIT has drawn sellout crowds of 10,556 fans in seven of the last eight Brick City Weekends, making it one of the most sought-after tickets in Rochester.
Video and live stats will available for Saturday's games. In addition, the contest will be aired on WITR 89.7 FM and Fox Sports 1280 with Ed Trefzger and Scott Biggar on the call.
Come on out and support the Tigers as they begin the 2018-19 season.
###