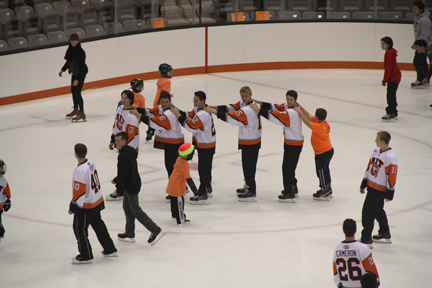 Men's hockey picked to finish seventh in the 2014-15 Atlantic Hockey Association preseason poll
(Photo: RIT men enjoy skating at opening ceremonies of the Gene Polisseni Center last week)
ROCHESTER, NY – The RIT men's hockey team was picked to finish seventh in the 2014-15 Atlantic Hockey Association preseason poll, as voted on by the conference's coaches, and announced at the conference's annual media day held via teleconference on Wednesday, Sept. 24. This is Atlantic Hockey's 12th season of competition.
Last season's regular season champion and tournament semifinalist, Mercyhurst, is the top pick in the preseason poll, with six first place votes and 95 total points. League champion Robert Morris garnered three first place votes and 89 total points, while Air Force is third with one first place vote and 80 points.
Bentley and Niagara were picked to tie for fourth by the coaches, both with 69 points. Niagara also garnered a first place vote. Canisius is sixth with 52 points, while the Tigers check in with 47 points.
RIT returns 19 players from last season's squad; including 2012-13 leading scorer and three-year team captain Matt Garbowsky (St. George, Ontario/Powell River Kings). In all, 11 forwards, five defensemen and all three goaltenders are back from last season's team that finished ninth in the AHA standings. In goal, sophomore Mike Rotolo (Rochester, NY/Cedar Rapids Roughriders) emerged as the starter and finished 9-9-3 with a 2.77 goals against average and .912 save percentage.
"We are eager to show we're a better team this year than we were last season," said RIT head coachWayne Wilson, now entering his 16th season. "We want to play our best hockey in March, earn home ice advantage for the AHA playoffs, win our conference championship, and get back to the NCAA Tournament."
The bottom four of the standings sees Holy Cross in eighth with 44 points, Sacred Heart ninth with 28 points and Army tenth with 20 points. Rounding out the 2014-15 preseason poll is American International in 11th with 12 points.
With 11 teams in the conference, RIT will play an unbalanced schedule. The Tigers play Robert Morris, Holy Cross, Sacred Heart, and Niagara, four times apiece this season. RIT will play two games each against Air Force, Canisius, American International, Army, Bentley, and Mercyhurst.
The 2015 Atlantic Hockey Tournament will feature the same format for the third straight season. This year the top five teams receive a bye into the Quarterfinal round with seeds 6-8 hosting seeds 9-11 in a best two-out-of-three weekend series starting Friday, March 6. The First Round winners will then be re-seeded and travel to the top-three seeds, as the fifth seed will travel to the fourth seed for a best-two-out-of-three Quarterfinal series, which will begin on Friday, March 13. The four winners will then travel to the Blue Cross Arena in downtown Rochester with the highest remaining seed facing the lowest remaining seed in the first semifinal, with the other two remaining seeds facing off in the second semifinal on Friday, March 20. The two semifinal winners will then face-off in the Championship game on Saturday, March 21 with the NCAA automatic berth on the line.
RIT opens its inaugural season at the 4,300-seat Gene Polisseni Center with an exhibition contest against the Brock University of Canada on Saturday, Oct. 4 at 7:05 p.m. The Tigers open the regular season at home against St. Lawrence on Friday, Oct. 10 and Clarkson on Saturday, Oct. 11. On Saturday, Oct. 18, RIT hosts perennial power Boston College at Blue Cross Arena as part of Brick City Homecoming and Family Weekend. The Tigers have drawn a sellout crowd of 10,556 fans at Blue Cross Arena in each of the last four years and are nearing that number in ticket sales well in advance.
This is the second lowest that RIT has been projected to finish since being selected to finish eighth in its inaugural AHA season of 2006-07. RIT was chosen first in 2007-08, 2010-11, and 2011-12, and third in both 2008-09, and 2009-10. Last year, RIT was picked to finish fifth and placed ninth. RIT won the regular season title the first three seasons they were not picked to finish first.
RIT has won four AHA regular season titles and made three straight trips to the AHA Championship game from 2010-12. In 2010, RIT won its first AHA postseason title, parlaying that success into an historic run to the NCAA Tournament, where they advanced to the Frozen Four.
The Atlantic Hockey Association arose on June 30, 2003, to found a new Division-I men's ice hockey conference. The league is comprised of eleven members: Air Force Academy, American International College, Army, Bentley University, Canisius College, College of the Holy Cross, Mercyhurst University, Niagara University, Robert Morris University, Rochester Institute of Technology, and Sacred Heart University.
2014-15 Atlantic Hockey Association Preseason Coaches Poll
1. Mercyhurst (6) – 95
2. Robert Morris (3) – 89
3. Air Force (1) – 80
4. Bentley – 69
4. Niagara (1) – 69
6. Canisius – 52
7. RIT – 47
8. Holy Cross – 44
9. Sacred Heart – 28
10. Army – 20
11. American International – 12
(First Place votes)