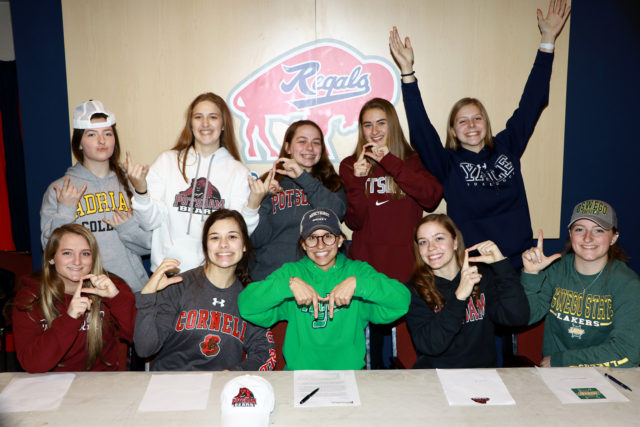 By Janet Schultz, NYHOL
The Buffalo Regals 19U team has a unique story and it was summed up Monday night (Jan. 13) when the majority of the players signing college commitments told NYHOL that their best hockey memory was getting the bid to go to the USA Nationals in California last season.
Unique in that this team has been together, with no player added and no player leaving, for two years. Five of the women have played together on the Regals for the last 10 years. Now the team will start to drift apart–not because of trades, families moving–the players have made their college commitments.
Coaches Tom Ruggierio and Chris Phillips celebrated the event by bringing ten players together for a College Commitment Signing Day. So where will they head off to?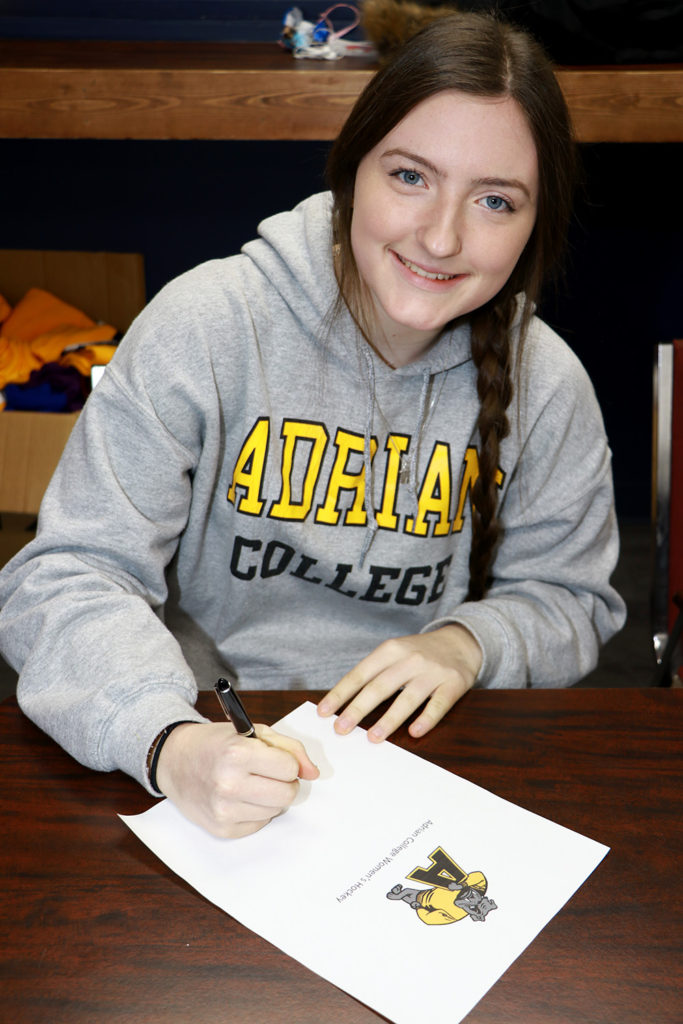 Emma Corbett signed with Adrian College of Michigan. Emma has played hockey for 12 years starting her career out with the Rochester Edge and joining the Regals two years ago. Corbett attends West Irondequoit High School.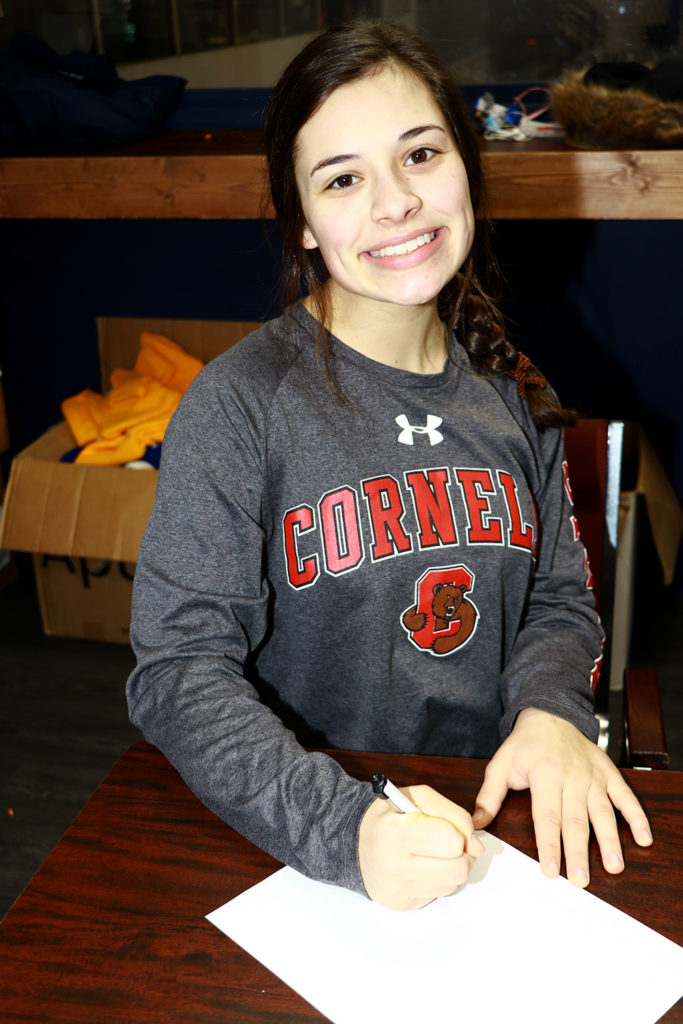 Abby Ruggiero, yes, Coach's daughter, has signed with the Big Red or Cornell after she graduates from Sacred Heart Academy. She has been coached by her dad since she started hockey at age four. She added that in addition to the nationals she has loved "meeting all the great people in hockey."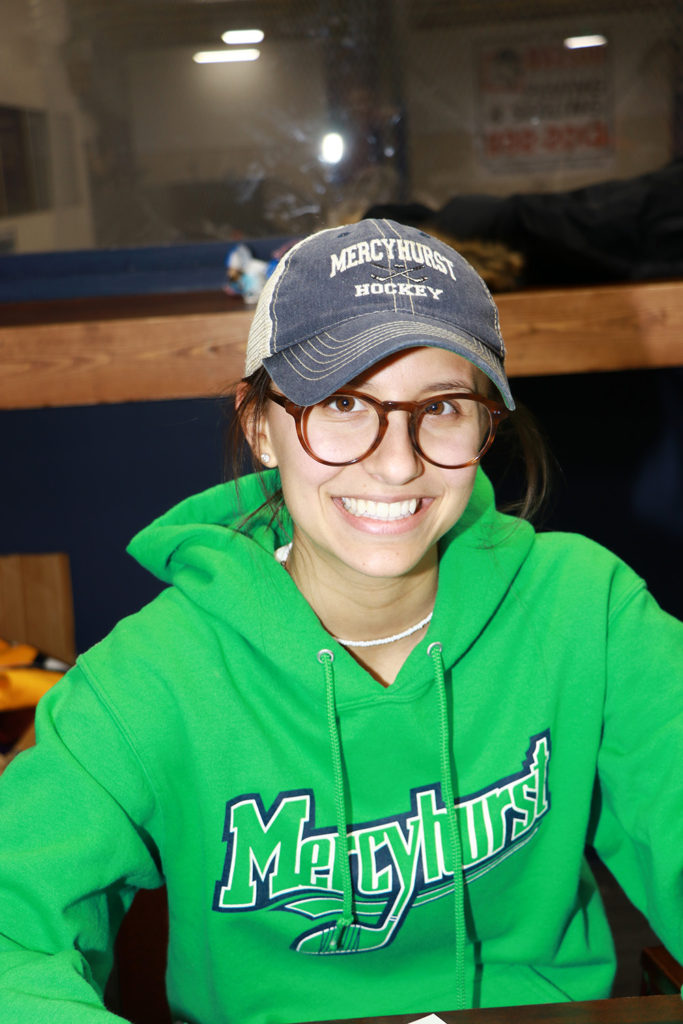 Jersey Phillips, a name familiar to a lot of people in women's hockey as a fast skater and one that can put points on the Board, is heading to Mercyhurst College. She began her career at seven playing with the Regals and is a member of the WNYGVIH Lancaster/Iroquois/Depew team. She will graduate from Depew High School in June.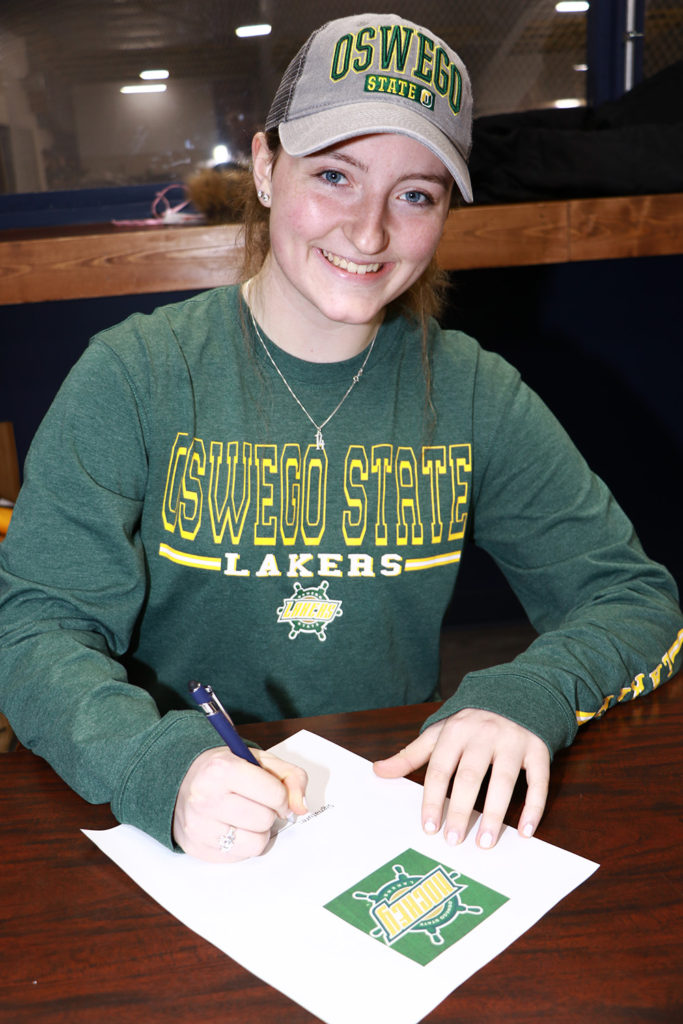 Rachel Corbett, Emma's sister, also attends West Irondequoit High School and signed with the Oswego Lakers. She started with the Rochester Edge and moved to the Regals two years ago. Corbett's favorite moment came when her 14U team won the NYS Championship.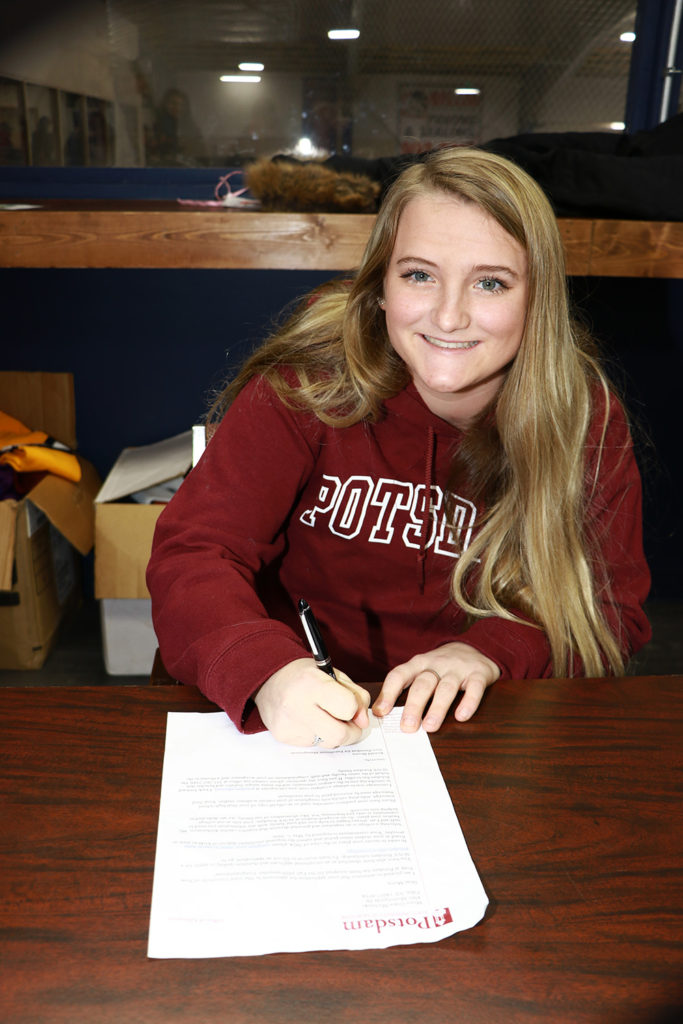 Moira Michalski has played for the Regals for three years and has now committed to SUNY Potsdam. Moira attends Nardin Academy and is a member of the Monsignor Martin Girls Varsity Ice Hockey Team as well as the Regals.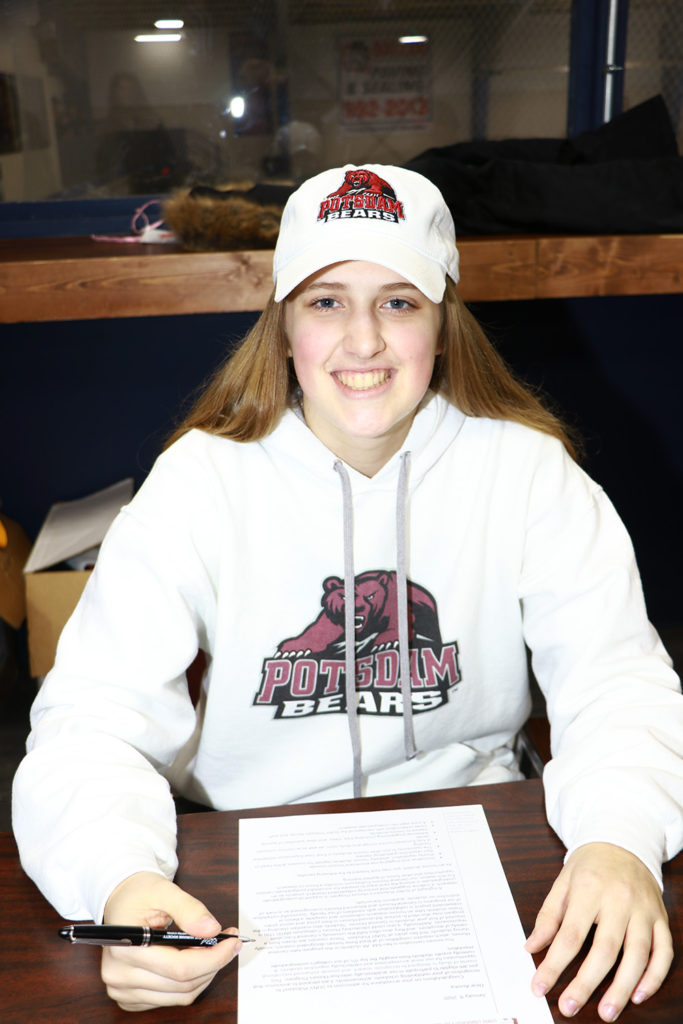 Annika Balk attends West Seneca East, and in addition for the Regals plays for Hamburg/Eden/West Seneca in the WNYGVIH Federation. She has also played for the Syracuse Nationals. Balk moved to the Regals in 9th grade, coming from her home i the Thousand Islands.
"Going to Nationals was a crazy experience, first finding out we were an at-large bid and then having the time of my life," said Balk, who also committed to SUNY Potsdam.
The SUNY Potsdam roster continues to grow with Megan Sheehan and twin sisters Sarah and Hannah Barrett.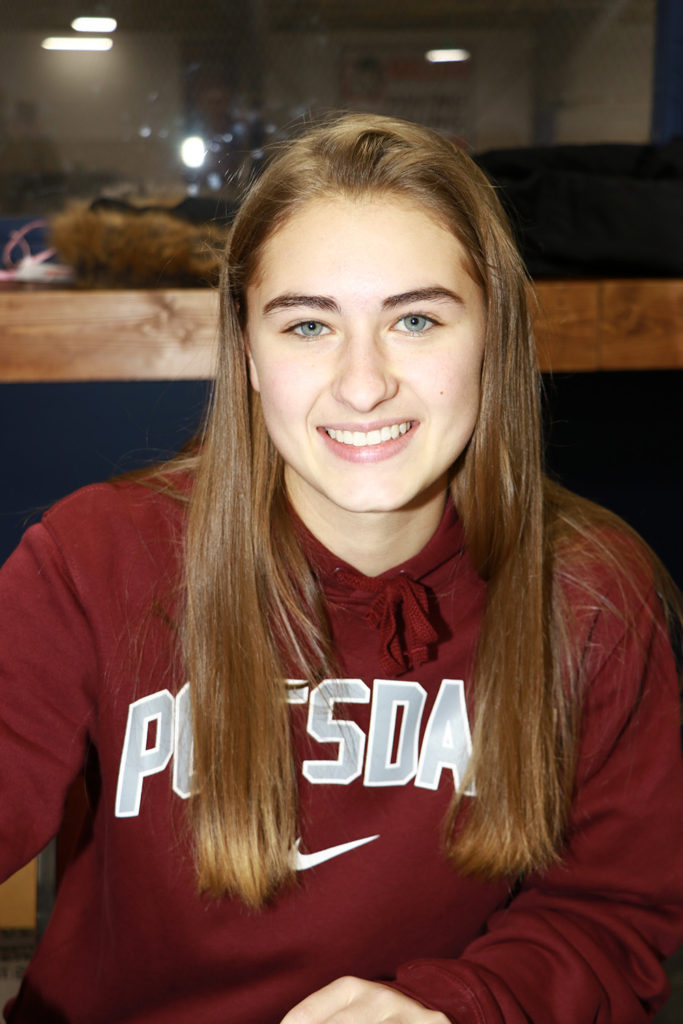 Megan attends Akron High School and played for the Buffalo Bisons before moving to the Regals.
Sarah has played her entire career with the Regals and also played for the Clarence/Amherst/SweetHome girl's varsity team until this season.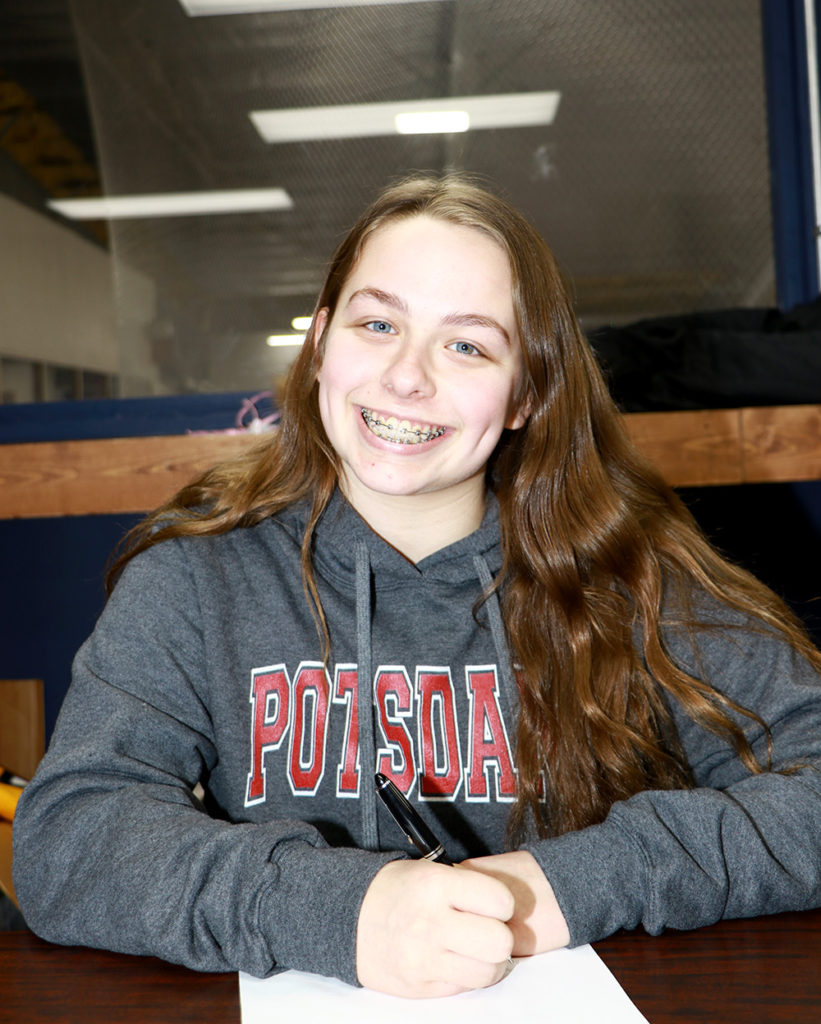 Hannah's fondest memory, an another several of us remember, is being able to get back on the ice after hip surgery. She has also played her career with the Regals after starting with Amherst. Hannah also played for CASH of the WNYGVIH Federation.
Sarah and Hannah didn't make a plan to attend Potsdam together.
"We visited the campus, liked the coaches and other people we met and ended up deciding with both wanted to go there," said Hannah.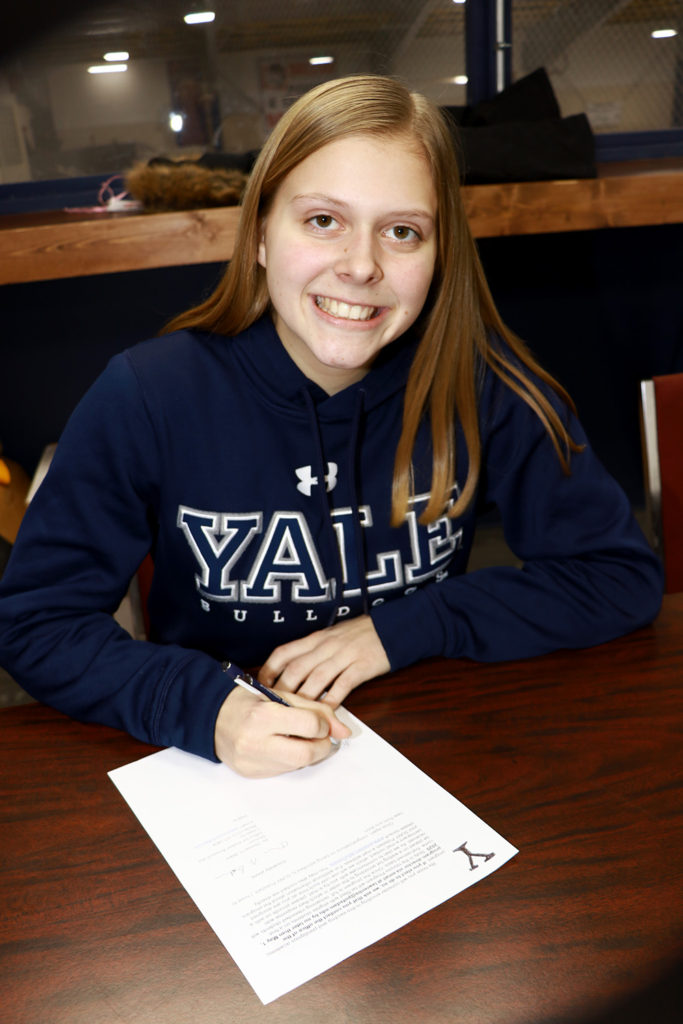 Last but not least Mia Wendell will head of to Yale University. She has played since she was six when she started in Amherst and then moved to the Regals. She also plays for the Williamsville girls varsity hockey team, the team took the State title last season and are working on making it again to defend it. She will play hockey for Yale and is undecided about her major.
"My favorite memory is going to the 2017 Nationals and that was when I was approached to play for Yale," said Mia.