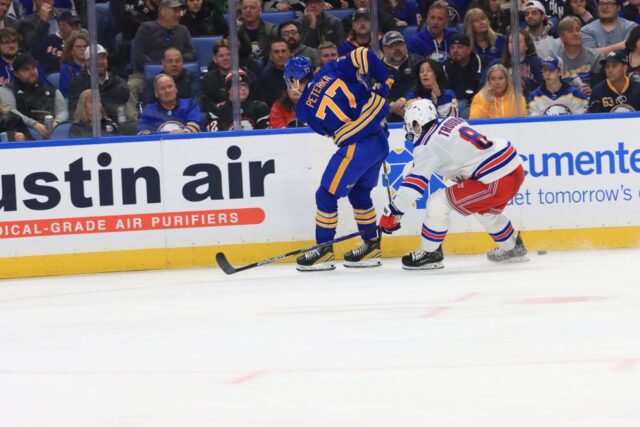 BY RANDY SCHULTZ –
BUFFALO, NY — Chris Kreider scored two goals to lead the New York Rangers to a 5-1 victory over the Buffalo Sabres before a sellout opening night crowd at KeyBank Center.
Leading 3-1 going into the 3rd period, the Kreider scored his second goal of the game to put New York up 4-1. Jacob Trouba popped in a goal into an empty Buffalo net to give the Rangers a 5-1 lead.
The Rangers took a 3-0 lead at 12:49 of the second period. But the Sabres finally got on the scoreboard when JJ Peterka scored at 18:30 of the period to cut New York's lead to 3-1. He scored on Buffalo's 11th shot on goal for the game.
Owen Power and Henri Jokiharju got the assists on Buffalo's only goal.
The Sabres trailed the Rangers after the first period, 2-0. The Rangers opened the scoring at 3:37 of the first period on a goal by Alexis Lafreniere.
New York increased their first period lead, 2-0, on a power-play goal by Chris Kreider.
GAME NOTES: Two ex-Sabres were behind the Rangers bench assisting head coach Peter Laviolette. They included Phil Housley and Michael Peca.
(Photo by Janet Schultz Photography/NY Hockey OnLine)