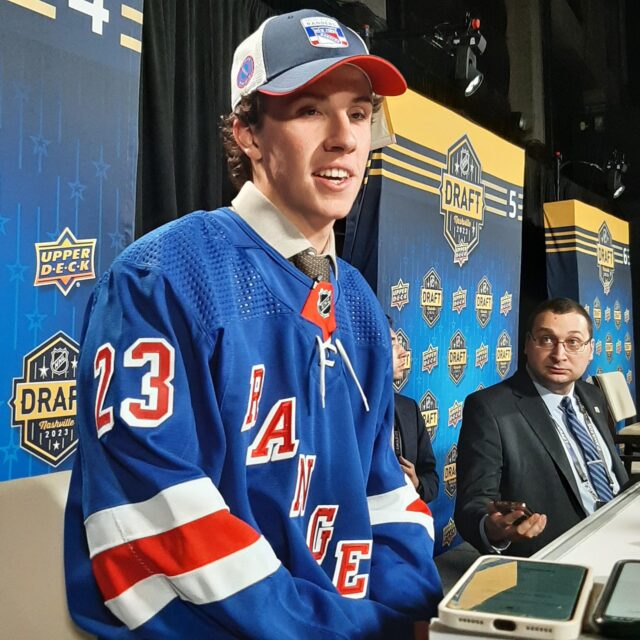 By Warren Kozireski —
NASHVILLE, TENN — Selecting 23rd overall, the New York Rangers went with offense in selecting USNTDP product and future Boston College Eagle Gabriel Perreault with their first-round draft pick in the 2023 NHL Entry Draft in Nashville.
"Hearing my name called is pretty surreal; it's something you dream of as a kid, so I'm so excited to be a Ranger," Perreault said in the post draft media scrum.
Perreault teamed with fellow first round picks Will Smith and Ryan Leonard to break several scoring records for Team USA this season. The 5'11", 165 lb. right wing is more of a playmaker with 79 assists but scored at a better than two-points-per-game pace this season with 132 points in 63 games and adding 45 points over 23 games in the USHL portion of the schedule.
"I'm a competitive, creative offensive-minded winger, I create chances for me and my teammates, but I would say I'm more of a playmaker.
Perreault is the son of former NHLer Yanic Perreault, who spent 859 games over 14 seasons in the league with 516 points. He is now the Player Development Coach for the Chicago Blackhawks.
"I haven't seen him too much, but I've heard I got a good amount—he was really skilled and a really smart player, so I carry that."
Perreault had 18 points (five goals, 13 assists) in seven games to help lead the United States to a gold medal at the 2023 IIHF World Under-18 Championship in Switzerland in April.
His 132 points this season set a program record breaking the records held by current NHL stars Auston Matthews and Jack Hughes.
"It was a great year for myself and also for the team…and there was no better way to end it than with a gold medal. It's really special because you look up to the names that came through that program and to have my name up there is definitely pretty special."
In just a few short months, Perreault and the rest of the Team USA line will get together again at Boston College and try to continue their offensive magic.
(Photo by Koz, NY Hockey OnLine)