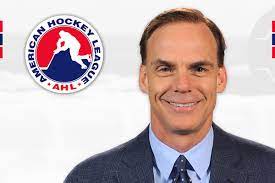 By Warren Kozireski —
American Hockey League President Scott Howson was in Rochester Fri. Nov. 10th as part of visiting many of the league's affiliates. He answered several questions, including about the National Hockey League and Canadian Junior agreement regarding players like Buffalo Sabres prospect Matt Savoie not being able to begin their professional career if they still have junior eligibility.
Q: What are your thoughts about nights like tonight (Hockey Fights Cancer) and other promotion nights in the league?
Howson: "We really like them. To have a night like this that brings cancer to the forefront and keeps it top of mind. We've all been affected by it, so we are very much in favor of these nights. Our teams really do a fantastic job with these nights and raising awareness and raising funds."
Q: Are you trying to visit all teams?
A: "As many as I can; I can't say I get to all 30. A good number between our VP of Hockey Ops, myself and Steve Thompson we'll get to most of the market's multiple times. If time permits, I like to offer myself up and meet with the staff to give them a state of the league. But more it's keeping your hands and eyes on what's going on on the ice and visit with the officials and visit with the coaches and hear what they're saying and visit with the business people as well."
Q: What is the state of the Carolina Hurricanes affiliate situation now that they've lost Chicago and is the idea to balance the number of teams in each conference?
A: We're working on it and the goal is to have them have a full affiliate in the AHL and we didn't accomplish that this year, but we're working on it. Ideally that (conference balance) would be great, but I don't think that's going to be in the cards right now the way it looks. The way the Pacific division has grown—it started as a five-team division and now it's a ten-team division—and it was written into the rules that western-based NHL teams could move their teams out there and that's just the way it's developed."
Q: The unbalanced divisions led to the new playoff format. What went into the development of that and how do you maybe see that growing?
A: "Our NHL partners were adamant that they wanted more meaningful games at the end of the year for their prospects. So, we increased the playoffs so there are more playoff games available, but there are also more games in March and April and those games can be just as important because they are like playoff games. So, mission accomplished there, more playoffs, more meaningful games, more playoff games, more important games, better for development."
Q: There is some frustration in Rochester with Matt Savoie's current situation and the control the CHL has over home. Are there any discussions to potentially look at that and give them the opportunity to play in the AHL if they choose?
A: First of all, we do want as many good, young players in our league as we can, and Matt Savoie is one of those. There is nothing in our rules to prevent a player like that from playing. It's a CHL-NHL agreement. It's very important for the CHL and that would really need to be done at the NHL level. It's been talked about to Bill Daly and Gary Bettman about how it would be great. We got spoiled during the covid year because we were blessed with a wide array of prospects who couldn't play in junior and some of those got held over for the next year. But really, it's a CHL-NHL rule and there's not much we can do about it. Our teams, the NHL teams, would love to have more latitude in that, but it's not in the cards right now."
Q: Now that we're several years into having two referees for every AHL game, are you happy with the results and is there any concern about depth?
A: "At the grass roots level, we're all very concerned about what's happening with umpiring and officiating and the criticism they get, and I think it's discouraging people to join. I think the NHL has done a wonderful job; they're taking players who aren't long off the ice as a player (former Amerks Jordan Samuels-Thomas and Justin Kea as examples) and they're training them and putting them right into our league and they've had great success and we've benefitted from that. So, are concerned about the depth? I would say mildly concerned, but certainly not presently and it hasn't affected us yet. We just need to make sure that the pipeline stays full."
Q: What is your assessment of the league several years removed from the pandemic?
A: "I think we've recovered very well. We had a record year last year, record playoffs, record revenue from ticket sales and we're trending to do that again this year; it's very early so I don't want to get ahead of myself, but we've recovered quite strongly and this franchise here is a great example of it. This franchise has really taken off in the last two or three years. I've been in this league a long time and I remember 20 years ago when Rochester was a model franchise. It took a little bit of a downturn for a while and now it's just rebounded tremendously. This is a great hockey city, it's a great hockey market and I think the synergy now is working really well with the Sabres, who are in a great place in terms of their development and all the young players. I think this franchise is going to be really, really strong for the league for a long time."
(Photo provided by American Hockey League)