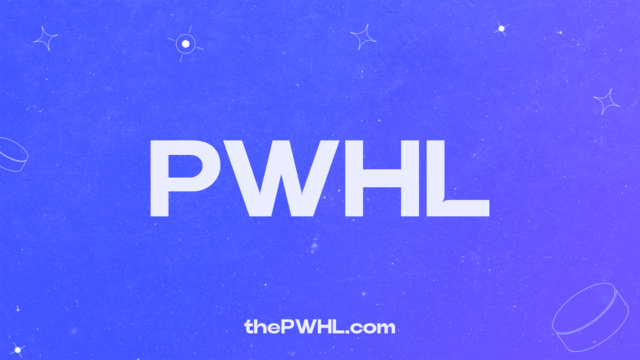 184 players to assemble in PWHL markets beginning November 15
Toronto, ON – The Professional Women's Hockey League (PWHL) today announced that 184 players have been named to Training Camp rosters in preparation for the league's inaugural season. Training Camps begin November 15 in all six markets and represent the first time that teams will be together for on and off-ice activities.
"Training Camps are the next step towards our inaugural season and provide an opportunity for all players to showcase their abilities, and in some cases, earn a roster spot on one of the PWHL's original six teams," said Jayna Hefford, PWHL Senior Vice President of Hockey Operations. "This is an exciting phase for all of our organizations and an important part of the team building process from both an evaluation standpoint and for establishing cohesion in their pursuit of a championship."
The 184 camp attendees consist of the league's 18 initial free agent signings, 88 players who were selected in the PWHL Draft, and 78 undrafted free agents invited from the draft eligibility list. Teams were permitted to bring a minimum of 28 players and up to a maximum of 35 players to camps.
All teams will have final rosters set by December 11 that must include 23 players signed to Standard Player Agreements, plus two Reserve Player Contracts.
A set of Waiver Period Rules and Guidelines has been established for the 2023-24 season to provide players with multiple opportunities to secure a contract and ensure the league and teams maintain flexibility and transparency.
First Waiver Window – November 30 to December 2:
Training Camp rosters must be reduced to a maximum of 27 players by Nov. 29, prior to the commencement of the first Waiver Window. The league will then inform teams of all eligible players for this Waiver Window, and teams may contact eligible players with the intent to offer them a contract.
Second Waiver Window – December 8 to December 10:
Prior to the commencement of the second Waiver Window, teams will provide the league with a final list of Training Camp releases for circulation to all teams. A team's list of released players will include any undrafted player not offered a Standard Player Agreement by the club. Any Waiver eligible player may be contacted by teams and offered contracts ahead of the final roster deadline.
Waiver Eligibility:
Players who receive and decline a Standard Player Agreement offer while attending a team's Training Camp are ineligible for the Waiver period. Drafted players who leave their team camp without getting cut or who don't show up at their team camp are also ineligible for Waivers.
Player Reversion:
Drafted players who go unsigned or unclaimed during the Waiver period will revert to their original team's protected list.
PWHL TRAINING CAMP ROSTERS
BOSTON
Forwards (16)
Brandt, Hannah (Drafted 5-27)
Brand, McKenna (Camp Invite)
Darkangelo, Shiann (Drafted 12-70)
Davis, Sammy (Camp Invite)
Gabel, Loren (Drafted 4-22)
Girard, Taylor (Drafted 9-51)
Isbell, Samantha (Camp Invite)
Knight, Hilary (Signed FA)
Kosta, Nicole (Camp Invite)
Marvin, Gigi (Camp Invite)
Müller, Alina (Drafted 1-3)
Pelkey, Amanda (Camp Invite)
Rattray, Jamie Lee (Drafted 3-15)
Schafzahl, Theresa (Drafted 7-39)
Shirley, Sophie (Drafted 11-63)
Wenczkowski, Taylor (Camp Invite)
Defenders (8)
Brown, Emily (Drafted 8-46)
Buckles, Emma (Drafted 13-75)
Digirolamo, Jessica (Drafted 6-34)
Fratkin, Kaleigh (Camp Invite)
Healey, Jess (Drafted 15-87)
Jaques, Sophie (Drafted 2-10)
Keller, Megan (Signed FA)
MacInnis, Lauren (Camp Invite)
Goaltenders (4)
Browning, Lindsay (Camp Invite)
Frankel, Aerin (Signed FA)
Kronish, Cami (Camp Invite)
Söderberg, Emma (Drafted 10-58)
MINNESOTA
Forwards (15)
Boreen, Abigail(Camp Invite)
Brodt, Sydney (Drafted 15-85)
Butorac, Claire (Camp Invite)
Cava, Michela (Drafted 12-72)
Coyne Schofield, Kendall (Signed FA)
DeGeorge, Clair (Drafted 6-36)
Fleming, Brittyn (Camp Invite)
Heise, Taylor (Drafted 1-1)
Křížová, Denisa (Drafted 8-48)
Kunin, Sophia (Drafted 10-60)
Pannek, Kelly (Signed FA)
Schepers, Liz (Drafted 13-73)
Skaja, Catie (Camp Invite)
Tapani, Susanna (Drafted 5-25)
Zumwinkle, Grace (Drafted 3-13)
Defenders (9)
Buchbinder, Natalie (Drafted 7-37)
Cook, Abby (Camp Invite)
Flaherty, Maggie (Drafted 4-24)
Greco, Emma (Camp Invite)
Kremer, Dominique (Camp Invite)
Marshall, Patti (Camp Invite)
Morin, Sidney (Drafted 9-49)
Nightengale, Nikki (Camp Invite)
Stecklein, Lee (Signed FA)
Goaltenders (4)
Bench, Lauren (Camp Invite)
Hensley, Nicole (Drafted 2-12)
Leveille, Amanda (Drafted 11-61)
Rooney, Maddie (Camp Invite)
MONTREAL
Forwards (19)
Bettez, Ann-Sophie (Drafted 14-79)
Bujold, Sarah (Camp Invite)
Bunton, Hanna (Camp Invite)
Dalton, Claire (Drafted 12-67)
Daoust, Mélodie (Camp Invite)
David, Gabrielle (Drafted 9-54)
Dempsey, Jillian (Drafted 11-66)
Dubois, Catherine (Camp Invite)
Lefort, Sarah (Camp Invite)
Ljungblom, Lina (Drafted 15-90)
Lum, Leah (Camp Invite)
Marchment, Kennedy (Drafted 6-31)
Murphy, Maureen (Drafted 3-18)
O'Neill, Kristin (Drafted 2-7)
Poulin, Marie-Philip (Signed FA)
Poznikoff, Alexandra (Camp Invite)
Stacey, Brooke (Camp Invite)
Stacey, Laura (Signed FA)
Vanišová, Tereza (Drafted 7-42)
Defenders (8)
Ambrose, Erin (Drafted 1-6)
Bizal, Madison (Drafted 8-43)
Daoust, Catherine (Camp Invite)
Keopple, Mariah (Camp Invite)
Laganière, Brigitte (Camp Invite)
Lásková, Dominika (Drafted 4-19)
Poulin–Labelle, Maude (Drafted 10-55)
Tabin, Kati (Drafted 5-30)
Goaltenders (5)
Desbiens, Ann-Renée (Signed FA)
Chuli, Elaine (Drafted 13-78)
Boissonnault, Marlène (Camp Invite)
Deschênes, Marie-Soleil (Camp Invite)
Škodová, Blanka (Camp Invite)
NEW YORK
Forwards (18)
Aurard, Chloe (Drafted 4-21)
Babstock, Kelly (Camp Invite)
Carpenter, Alex (Signed FA)
Cornine, Kendall (Camp Invite)
Downie–Landry, Jade (Drafted 9-52)
Eldridge, Jessie (Drafted 3-16)
Giguère, Elizabeth (Drafted 5-28)
Gruschow, Alexa (Camp Invite)
Labelle, Alexandra (Drafted 15-88)
Larson, Bailey (Camp Invite)
Levis, Paetyn (Drafted 10-57)
Lunny, Hayley (Camp Invite)
Norcross, Savannah (Camp Invite)
Packer, Madison (Camp Invite)
Roque, Abby (Signed FA)
Saulnier, Jill (Drafted 7-40)
Vespa, Kayla (Drafted 13-76)
Woods, Emma (Drafted 14-81)
Defenders (12)
Baker, Taylor (Camp Invite)
Bourbonnais, Jaime (Drafted 2-9)
Curlett, Emily (Camp Invite)
Deaudelin, Christine (Camp Invite)
Eady, Megan (Camp Invite)
Fällman, Johanna (Camp Invite)
Hobson, Brooke (Drafted 8-45)
Olivier, Carley (Camp Invite)
Shelton, Ella (Drafted 1-4)
Thompson, Claire (Camp Invite)
Zafuto, Olivia (Drafted 12-69)
Zandee–Hart, Micah (Signed FA)
Goaltenders (4)
Levy, Abbey (Drafted 11-64)
Post, Lindsey (Camp Invite)
Sauvé, Kassidy (Camp Invite)
Schroeder, Corinne (Drafted 6-33)
OTTAWA
Forwards (18)
Adzija, Lexie (Drafted 11-65)
Clark, Emily (Signed FA)
Della Rovere, Kristin (Drafted 10-56)
Demers, Rosalie (Camp Invite)
Garát–Gasparics, Fanni (Camp Invite)
Gilmore, Becca (Camp Invite)
Grant–Mentis, Mikyla (Camp Invite)
Hughes, Gabrielle (Drafted 4-20)
Jenner, Brianne (Signed FA)
Lonergan, Caitrin (Drafted 14-80)
Mrázová, Kateřina (Drafted 8-44)
Perreault, Liliane (Camp Invite)
Scamurra, Hayley (Drafted 5-29)
Schneider, Malia (Camp Invite)
Shiga, Akane (Camp Invite)
Snodgrass, Natalie (Camp Invite)
Veillette, Audrey-Anne (Drafted 15-89)
Watts, Daryl (Drafted 6-32)
Defenders (11)
Bell, Ashton (Drafted 2-8)
Boulier, Amanda (Drafted 13-77)
Boyd, Zoe (Drafted 9-53)
Davison, Taylor (Camp Invite)
Harmon, Savannah (Drafted 1-5)
Herman, Cassidy (Camp Invite)
Howran, Victoria (Camp Invite)
Roese, Jincy (Drafted 3-17)
Tejralová, Aneta (Drafted 7-41)
Tinker, Saroya (Camp Invite)
Willoughby, Kyra (Camp Invite)
Goaltenders (4)
Abstreiter, Sandra (Drafted 12-68)
Maschmeyer, Emerance (Signed FA)
McQuigge, Rachel (Camp Invite)
Ridgewell, Samantha (Camp Invite)
TORONTO
Forwards (15)
Bach, Victoria (Drafted 7-38)
Cogan, Samantha (Camp Invite)
Compher, Jesse (Drafted 5-26)
Connors, Maggie (Drafted 11-62)
Howard, Brittany (Drafted 8-47)
Jones, Jess (Camp Invite)
Leslie, Rebecca (Drafted 12-71)
Maltais, Emma (Drafted 2-11)
Miller, Hannah (Drafted 13-74)
Nurse, Sarah (Signed FA)
Spooner, Natalie (Drafted 4-23)
Turnbull, Blayre (Signed FA)
Vasko, Alexa (Drafted 14-83)
Wabick, Morgan (Camp Invite)
Willoughby, Kaitlin (Camp Invite)
Defenders (10)
Channell, Mellissa (Drafted 10-59)
Fast, Renata (Signed FA)
Flanagan, Kali (Drafted 6-35)
Keenan, Emma (Camp Invite)
Knowles, Olivia (Drafted 15-86)
Kondas, Jessica (Camp Invite)
Larocque, Jocelyne (Drafted 1-2)
Munroe, Allie (Drafted 9-50)
Rougeau, Lauriane (Camp Invite)
Wabick, Taylor (Camp Invite)
Goaltenders (4)
Campbell, Kristen (Drafted 3-14)
Howe, Erica (Camp Invite)
Jackson, Carly (Camp Invite)
Mäkelä, Amanda (Camp Invite)