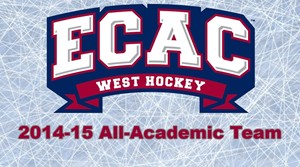 POTSDAM, N.Y.-The SUNY Potsdam women's hockey team matched a program best by placing 12 of its players on the 2014-15 Eastern College Athletic Conference West All-Academic Team. The Bears were one of four teams out of nine to have 12 or more players honored.
In order to be eligible for the All-Academic Team, student-athletes must carry a cumulative grade-point-average of 3.0 or higher and have completed at least one full year at their current institution.
Junior goalie Abby Tardelli (Potsdam, N.Y./North Country Ice Storm) makes her second straight appearance on the squad. This season, Tardelli was 2-6 in 10 games played with seven starts. The Bears' assistant captain recorded a 4.94 goals-against-average and a .885 save percentage.
Sophomore forward Jordan Ott (Hilton, N.Y./Hilton) was also named honorable mention All-ECAC West this season. Ott, last year's conference and USCHO.com Division III Rookie of the Year, led the Bears in scoring again this season. She scored 10 goals and added 12 assists for 22 points. Ott already ranks fifth on the program's scoring list with 58 points on 32 goals and 26 assists.
Sophomore defenseman Kaylen Van Wagner (Red Hook, N.Y./Hotchkiss Prep) has been a fixture for Potsdam on the blue line. In two seasons with the Bears, she has played in every one of their 51 contests.
Sophomore defenseman Kady Hart (Potsdam, N.Y./North Country Ice Storm) suited up for her hometown team this season. She also saw action in all of Potsdam's 25 games during 2014-15.
Sophomore forward Roberta Beatty (Prince Albert, Saskatchewan/Ontario Hockey Academy) scored a goal and had three assists for four points in 25 games this season.
Junior defenseman Katie Marsman (Wantagh, N.Y./Wyoming Seminary) is on the all-academic team for the second year in a row. Marsman, an assistant captain this year, made another big leap forward and proved herself to be a top defenseman. While providing solid defense all season, she also had a breakout year offensively with 10 assists.
Sophomore forward Amanda Peterson (West Chazy, N.Y./Chazy Flyers) played in every game this year. She had personal best nine points on three goals and six assists.
Senior forward Izzy Fayerman (Calgary, Alberta/The Edge) has earned a spot on the all-academic team in each of the three seasons she's been eligible. The three-season captain was second on the Bears in scoring in 2014-15 with eight goals and nine assists for 17 points. Fayerman wrapped up her career with 30 goals and 34 assists for 64 points, placing her fourth on the Potsdam all-time scoring list. The Bears' leader also played in 100 games, the second most in program history.
Junior defenseman Emily Kriwox (Tupper Lake, N.Y./Tupper Lake) was also on the all-academic team last year. Kriwox showed great improvement on the blue line, while playing in 24 games.
Junior defenseman Rachel Grefke (Livonia, Mich./Victory Honda) has been on the all-academic team for two years in a row. Grefke again proved to be a no nonsense defender, while playing in all 25 games.
Junior forward Sally Mooney (New Albany, Ohio/Wyoming Seminary) was healthy for the first time in over a season this year. She scored five goals and assisted on four others for nine points. Known for her leadership, Mooney served as an assistant captain for the second straight year. She has also been on the all-academic team twice.
Junior goalie Alexane Rodrigue finished her second season for the Bears with her second straight appearance on the all-academic team. She was 5-7 in 14 starts, while playing in 15 games. She also recorded personal bests in save percentage (.922) and goals-against-average (2.78).
Potsdam finished the season with 9-15-1 overall, with a 5-12-1 mark in the ECAC West.