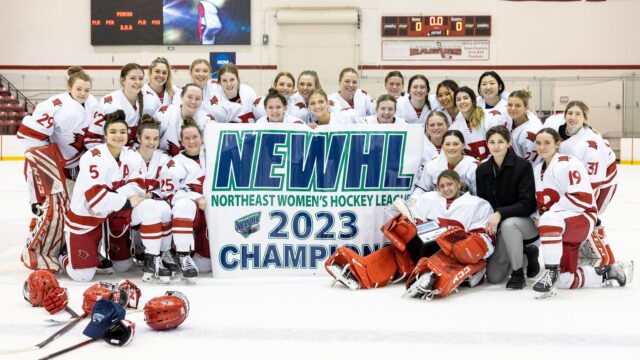 By Caleb Philips, Director of Athletic Communications —
PLATTSBURGH, N.Y. – As is the goal every season, the Plattsburgh State women's ice hockey team enters the 2023-24 season with high aspirations for the upcoming season, a trip to their 11th straight national semifinal and their eighth NCAA Tournament Title in program history.
"We have lost a lot of scoring output over the last two seasons and our team is young this year.," head coach Kevin Houle said about this year's team, "With that said, our goals will be the same as they have been over the last 21 seasons, which is to compete at the highest level as a team and to return to the final four."
With the legendary Coach Houle at the helm, that goal is well within reach every single season. Coach Houle currently carries a 475-57-26 record, good for a .875 winning percentage over 20 years of coaching. This year, his team will also look for its 11th straight conference title in a new conference, the third in the program's year history, as they move under the State University of New York Athletic Conference (SUNYAC) banner.
Even with the losses of two All-Americans, the group returning is still strong and talented. Julia Masotta (Tewksbury, Mass./Norwich University) and Mattie Norton (Glen Carbon, Ill./St. Louis Lady Blues) each return with all-conference selections under their belt and all-rookie players last year, Taya Balfour (Moorestown, N.J./Philadelphia Jr. Flyers) and Aizah Thompson (Williamsville, N.Y./Buffalo Bisons), will return with even bigger ambitions in their sophomore campaigns. Graduate student defender Kendall Wasik (Novi, Mich./Honeybaked) will be counted on as captain this year, for her roles with the team both on and off the ice.

"We have a strong core returning this year including Masotta, Boric, Wall, and Olshansky upfront and Norton and Wasik on the blueline. We expect big years from players like McLean, Orr, Cho, Balfour, and Thompson to build off the prior season. Our goaltending is solid with Nease and Lewis for this season, as well. We are also expecting the first-year players to have a significant impact on this year's team," Houle said.

Goaltenders

Plattsburgh State returns just one goaltender from last year's squad as Lilla Nease (Lake Forest, Calif./Anaheim Lady Ducks) returns for her graduate season in 2023-24. Last year, Nease played in 19 games, working to a 17-2 record, with a 1.36 GAA and a .938 save percentage. She posted four shutouts as she holds a 26-3 record in her three seasons of work. She is joined this year by one newcomer, as Chloe Lewis (Monson, Mass. /Northwood School) begins her collegiate career with the Cardinals in 2023-24.

Defenders

Despite losing two-time All-American Sierra Benjamin to graduation, the defensive group for Plattsburgh will still be an excellent and experienced group in 2023-24. Leading the unit will be graduate student captain Kendall Wasik (Novi, Mich./Honeybaked), who posted 18 assists last year and blocked 76 shots. All-NEWHL selection Mattie Norton (Glen Carbon, Ill./St. Louis Lady Blues) is back for her junior season, serving as an assistant captain this year, and will be joined by Taya Balfour (Moorestown, N.J./Philadelphia Jr. Flyers) and Aizah Thompson (Williamsville, N.Y./Buffalo Bisons) who were each named the NEWHL All-Rookie Team. Also returning to the Cardinal roster this year is sophomore Su-An Cho (Madison, Ala./Florida Alliance).
The group will welcome two rookies to help anchor the blue line in 2023-24, with first-years Maeghan Forsyth (Billings, Mont./Notre Dame Hounds) and Adriana Urban (Monroe, N.J./Hoosac School).

Forwards

With the loss of two-time All-American Sara Krauseneck from last year's team, a big scoring punch will need to be replaced, but the Cardinals appear to have the experience and talent to do so in 2023-24. Graduate student Julia Masotta (Tewksbury, Mass./Norwich University) is the lone returning All-NEWHL selection to the forward group, as she will be counted to lead this unit into the new season.
Plenty of experience returns to the offensive unit in 2023-24, led by graduate students Ivy Boric (Newport Beach, Calif./Anaheim Lady Ducks) and Tatem Cheney (Ottawa, Ontario/Ottawa Lady 67s) and seniors Mae Olshansky (Wilmette, Ill./North American Hockey Academy) and Ciara Wall (Stoneham, Mass./University of New Hampshire), with the four combining for 83 points last season. Juniors Riley Calhoun (New Harford N.Y./Bishipo Kearney Selects) and Bridget Orr (Excelsior, Minn./North American Hockey Academy) should have bigger roles this year, as well as sophomores Emma McLean (Burlington, Mass/Pomfret School), Molly Riggi (Farmingdale, N.J./New Jersey Titans), and Grace Yarkosky (South Lyon. Mich./Honeybaked).
Several newcomers should expect to see plenty of time on the ice this year and could be x-factors for the Cardinals this year as the group includes Lilli Bills (Castle Rock, Colo./New Hampton School), Sydnee Francis (Canton, N.Y./Nepean Jr. Wildcats), Emily Kasprzak (Niagara Falls, N.Y./Pittsburgh Penguins Elite), Dani Longuemare (Pembroke, Mass./Portsmouth Abbey School), Ava Mattaliano (Grosse Pointe Woods, Mich./Belle Tire), and Zsofia Pazmandi (Kaposvar, Hungary/Ontario Hockey Academy).
 
Schedule
 
The Cardinals open both the regular season and SUNYAC action with a home contest against Oswego State on Friday, Nov. 3. Plattsburgh State then visits Buffalo State (Nov. 10) and SUNY Morrisville (Nov. 11) before hosting Norwich University (Nov. 14) and traveling to SUNY Potsdam (Nov. 17). At the Panther/Cardinal Classic from Nov. 25-26, Plattsburgh State squares off with the University of Wisconsin-Eau Claire on Nov. 25 before taking on either Middlebury College or Endicott College the following day. After home contests against SUNY Cortland (Dec. 1) and SUNY Canton (Dec. 2), the Cardinals go to the Norwich East-West Hockey Classic from Dec. 9-10, facing off with host Norwich on Dec. 9 before meeting up with either Elmira College or Nazareth University the following day.
 
Plattsburgh State opens up the 2024 portion of its schedule at Oswego from Jan. 5-6 and opens up a six-game home stand versus Middlebury on Jan. 6. The Cardinals then host Morrisville from Jan. 12-13, Buffalo State from Jan. 19-20 and Williams College on Jan. 27 before visiting Canton for a pair of contests from Feb. 2-3. Plattsburgh State closes out the regular season with a home series against Potsdam (Feb. 9-10) and a road series at Cortland (Feb. 16-17).
 
The top four teams in the final regular-season conference standings will qualify for the SUNYAC Tournament, with the semifinals set for Feb. 24 and the championship set for March 2.
(Plattsburgh State Women's Hockey Photo)