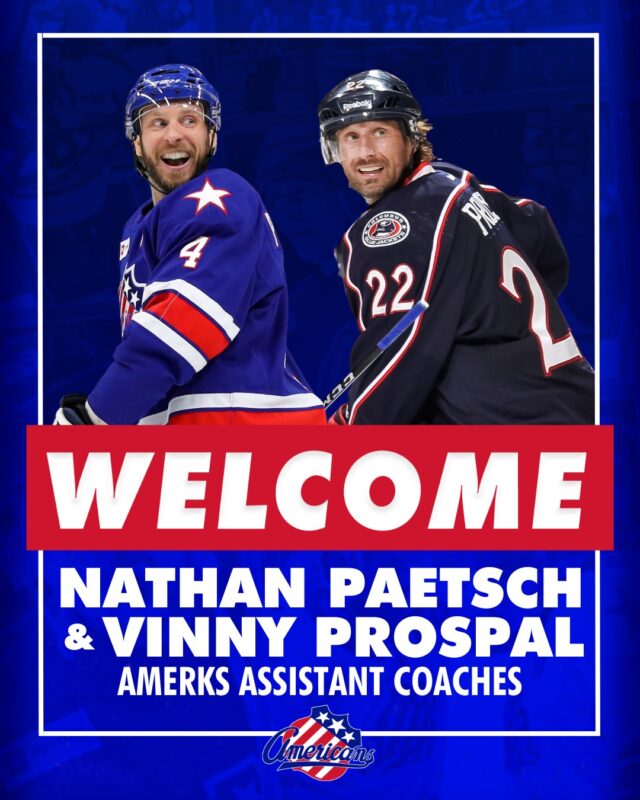 ---
(Rochester, NY) – Rochester Americans General Manager Jason Karmanos announced that Nathan Paetsch and Vinny Prospal have been named assistant coaches on the staff of head coach Seth Appert.
"I'm excited to add Nathan and Vinny to our coaching staff," said Appert. "The experience they bring will be invaluable for our players in their development. The character and competitiveness they displayed in their playing careers will serve us well as they become role models for our prospects. I'm looking forward to having them add to the culture we are creating in Rochester."
An introductory media Zoom call with Amerks head coach Seth Appert and assistant coaches Nathan Paetsch and Vinny Prospal is scheduled for 10 a.m. today. Information on how to access the call will be distributed a half hour prior.
Paetsch moves behind the bench after spending the last two seasons as a development coach for the Buffalo Sabres. In that role, he worked closely with the organization's top defensive prospects, both in Buffalo and Rochester, playing a key role in their overall development process.
"I thank the Buffalo Sabres organization, most importantly Terry Pegula, Kevyn Adams, Jason Karmanos and Adam Mair, for giving me the opportunity to begin my coaching in career in player development," said Paetsch. "I thoroughly enjoyed every minute working with our staff and prospects. Fortunately, transitioning into this role will allow me to continue those relationships and my passion for developing the organization's future."
"It's also no secret how important the Sabres and Amerks are to my family and I," continued Patesch. "I was fortunate enough to be in the organization as a player for 11 years and two more as a development coach. The opportunity to be back on the Amerks bench in a different role and work with a coach as experienced as Seth is both exciting and special and I'm looking forward to learning each day. We will work tirelessly to bring another Calder Cup back to Rochester while helping our young prospects grow with the ultimate goal of delivering a Stanley Cup to Buffalo."
A two-time Calder Cup winner, Paetsch announced his retirement in December 2020, ending an illustrious 17-year playing career with nearly 900 games in the National Hockey League, American Hockey League and the Deutsche Eishockey Liga in Germany.
A native of LeRoy, Sask., Paetsch appeared in 258 career games with the Amerks over parts of seven seasons in the red, white and blue, recording 100 points on 23 goals and 77 assists. His seven seasons in Rochester trail only Darryl Sly for the most by a defenseman in the 67-year history of the franchise and he's one of only 20 defensemen all-time with at least 250 games as an Amerk. He also added four points (2+2) in 26 playoff appearances for Rochester, leading the Amerks to the postseason in each of his first two years with the team.
It was off the ice, however, where Paetsch's contributions were the most impactful. In his seven seasons with the team, he was unanimously named the winner of the organization's McCulloch Trophy for his commitment to the Rochester community on five different occasions, the most by any player. He also remains the only Amerk in franchise history to receive the award, coinciding with being named Rochester's AHL Man of the Year for his community service, in three straight years from 2018-2020.
Paetsch is also a four-time recipient of his team's AHL Man of the Year award as well as a three-time nominee for the league's Fred T. Hunt Award, presented annually to the player who best exemplifies the qualities of sportsmanship, determination and dedication to hockey.
A seventh-round selection (202nd overall) of the Buffalo Sabres in 2003, Paetsch joined the Amerks as a rookie for the 2003-04 season following five years of junior hockey with the Moose Jaw Warriors. The following year, he and the Amerks enjoyed a record-setting season for the most points and longest home win streak while winning the Macgregor Kilpatrick Trophy as regular season champions thanks to an AHL-best 51-19-4-6 record. Paetsch would be the only Amerk to appear in all 80 games that season.
His best season as an Amerk came during the 2005-06 campaign when he posted career-highs in goals (11), assists (39) and points (50) to lead all Rochester defensemen and finish ninth in scoring among all AHL blueliners. For his efforts, he would be named Amerks MVP, becoming just the third defenseman in team history to earn the honors.
That year would also see Paetsch make his NHL debut for the Buffalo Sabres, paving way for a full-time spot in the NHL with the Sabres and later the Columbus Blue Jackets over the next four seasons.
Paetsch played an integral role during Buffalo's record-setting season in 2006-07, his first at the NHL level, recording a career-high 24 points (2+22) in 63 games. He helped the Sabres set franchise records for the most consecutive wins and road wins to begin a season while also leading Buffalo to the 50-win mark for just the second time in franchise history. The Sabres also tied the franchise mark for the most points in a season on their way to capturing their first President's Trophy as regular season champions and advancing to the Eastern Conference Finals of the 2007 Stanley Cup Playoffs.
Paetsch would play parts of the next three seasons with the Sabres and Blue Jackets, totaling 42 points (7+35) over 167 career NHL games.
Following a brief return to Rochester in 2010-11 and a season abroad in Germany, Paetsch spent five seasons with the Grand Rapids Griffins, where he led the team to five straight playoff appearances and two Calder Cup championships while also serving as team captain during the 2016-17 campaign.
He rejoined the Amerks for his third stint in Rochester prior to the 2017-18 season, playing out the final 43 games of his career with 14 points (2+2) over his final three seasons.
In his AHL career, the 6-foot-1, 195-pound blueliner amassed 259 points (52+207) over 651 career AHL games with Rochester, Grand Rapids and Syracuse, while also adding 34 points (5+29) in 104 playoff contests. During the 2016-17 season with Grand Rapids, he became just the 18th player in AHL history to play in 100 or more Calder Cup Playoff games.
He departed the organization ranked 25th in scoring among all-time defensemen in franchise history, joining the likes of Amerks Hall of Famers Jim Wiemer and Randy Cunneyworth to begin and end their playing careers in Rochester.
Prospal joins the Amerks following three seasons (2018-2021) as head coach of HC Ceske Budejovice of the Czech Extraliga, with whom he began his playing career and had two subsequent stints with in 2004-05 and again in 2012-13. He led the team to back-to-back league championships at the second-tier level (Czech Republic Hockey League, Chance Liga) in 2018-19 and 2019-20, going 63-18-5 during the regular season, and was named the League's Coach of the Year following the 2020-21 campaign.
"I'm very excited and privileged to join Seth's staff and take the next step in my coaching career with a such a storied organization like the Rochester Americans," said Prospal. "I'm very much looking forward to getting started and eager for the opportunity to work alongside both Seth and Nathan in developing future talent for the Buffalo Sabres."
Prospal's professional coaching experience also includes a two-year stint as an assistant coach of the Czech national team from 2016-2018.
A native of Ceske Budejovice, Czech Republic, Prospal amassed 765 points on 255 goals and 510 assists over a 20-year playing career highlighted by 1,108 NHL games with Columbus, New York Rangers, Tampa Bay, Anaheim, Florida, Ottawa and Philadelphia. He also added 35 points (10+25) in 65 career playoff appearances.
A third-round (71st overall) selection of Philadelphia Flyers in 1993, Prospal was a five-time 20-goal scorer and reached the 50-point on nine occasions, including six straight seasons with 50 or more points from 2001-02 to 2007-08.
He posted his best season during the 2005-06 campaign when he set career-highs in goals (25), assists (55) and points (80) while appearing in 81 games for the Lightning. He finished second on the team in scoring that year and ranked fifth in goals.
Prospal, who scored 34 game-winning goals over his illustrious career, played his final NHL season in 2012-13 when he led the Blue Jackets in scoring with 30 points in the lockout-shortened campaign. He announced his retirement on Jan. 28, 2014, ranking fourth in points scored, third in assists and sixth in games played among all Czech Republic born players in NHL history. He spent the remainder of the 2013-14 season as a scout with the New York Rangers.
Prospal's professional playing career began with four seasons in the American Hockey League, including three with the Hershey Bears. He totaled 131 points (42+89) in 192 career games for the Bears before recording a career-best 95 points on 32 goals and 63 assists in 63 games with the Philadelphia Phantoms during the 1996-97 campaign, his final in the AHL. He finished the season tied for third in the league in scoring while earning First Team AHL All-Star honors and representing the Phantoms at the 1997 AHL All-Star Classic.
Internationally, in addition to his NHL accomplishments, Prospal helped the Czech Republic win the gold medal twice at the World Championship (2000, 2005), which included scoring the game-winning goal in the gold medal game in 2005. He was also a part of the Olympic bronze medal team (2006) in Torino, Italy. He represented his country on two occasions in the World Junior Championships (1993-94, 1994-95), once in the World Cup of Hockey (2004) and was a three-time participant in the World Championship (2000, 2004, 2005). He was named to his country's 1998 Olympic team that won the Gold Medal in Nagano, but was unable to participate due to injury.
As a coach, he was behind the bench for the Czech Republic at the 2016 World Cup of Hockey.
(Rochester Americans Photos)