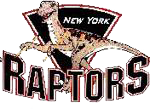 BY MICHAEL MEYERS –
The New York Raptors ice hockey team is back on the ice for the first time since the COVID 19 Pandemic began last year. The team practiced for the first time on Sunday, September 26.
The Raptors are not scheduled to play any games until after January, 2022.
The Central Park North Stars will be practicing with the Raptors at the end of October. They will continue to practice with the Raptors until their rink opens up in December.