Story and Photos by Janet Schultz, NYHOL˝©
Travel hockey is where every parent seems to want their child to play. But what about those children who just want to play competitive hockey and have fun with teammates? What if travel time and expense are an issue for the family? If you mention "house" and get the "look" do you feel it's not as good as travel?
One local hockey person, with hockey in her blood and a passion to grow the game took a step to help develop hockey players and make house a good option. With the support of the  New York State Amateur Hockey Association (NYSAHA) Linda Groff developed a weekend clinic that works with house league players.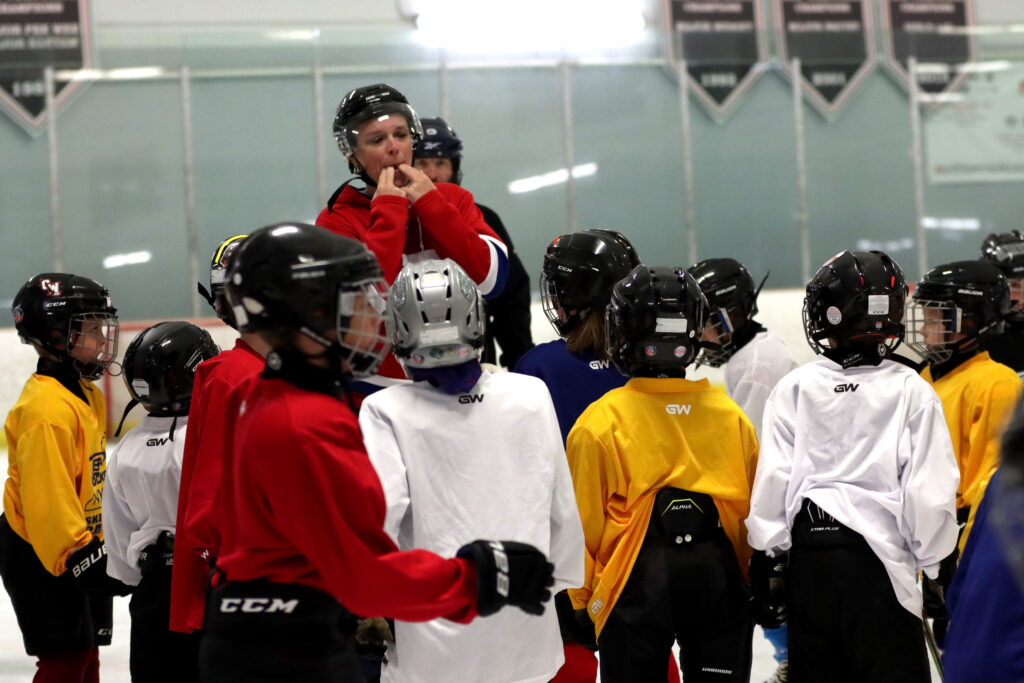 Groff, who serves as the NYSAHA Secretary and is the assistant manager at Northtowns Arena, has spent the past year developing a clinic for 8U, 10U, 12U and 14U players who play on house teams.
"I took this idea to the board because the clinics currently offered are usually for travel team kids and the house kids are left to the wayside," said Groff. "How are we going to replace those kids who do choose to move up to travel, if we aren't concentrating on our grassroots program?"
"We want to concentrate on player development and that's where we start–house." said Groff.
Since January Groff has been working on the program. She initially thought about 48 skaters and 12 goalies in each of the four sections of New York State. In some areas she got close to those numbers and in other areas a little less; but she did find out less can be better.
"It's controlled chaos out there, so I'm glad we didn't go for the higher numbers," said Groff.
Her first clinic was in Clifton Park in the North Section of NYS. They combined the 10, 12 and 14 year olds and they only had a couple of hockey Dads as volunteers. But Groff made it work and she not only included player development but also put in some coaching development for those volunteers.
"I wanted them to see how I keep the kids moving and working through stations," she explained.
The following weeks in Skaneateles (Central) and Long Island (East) they had more players and more volunteers with many organizations coming together as one and working together for the greater good and everyone saw the bigger picture of developing players.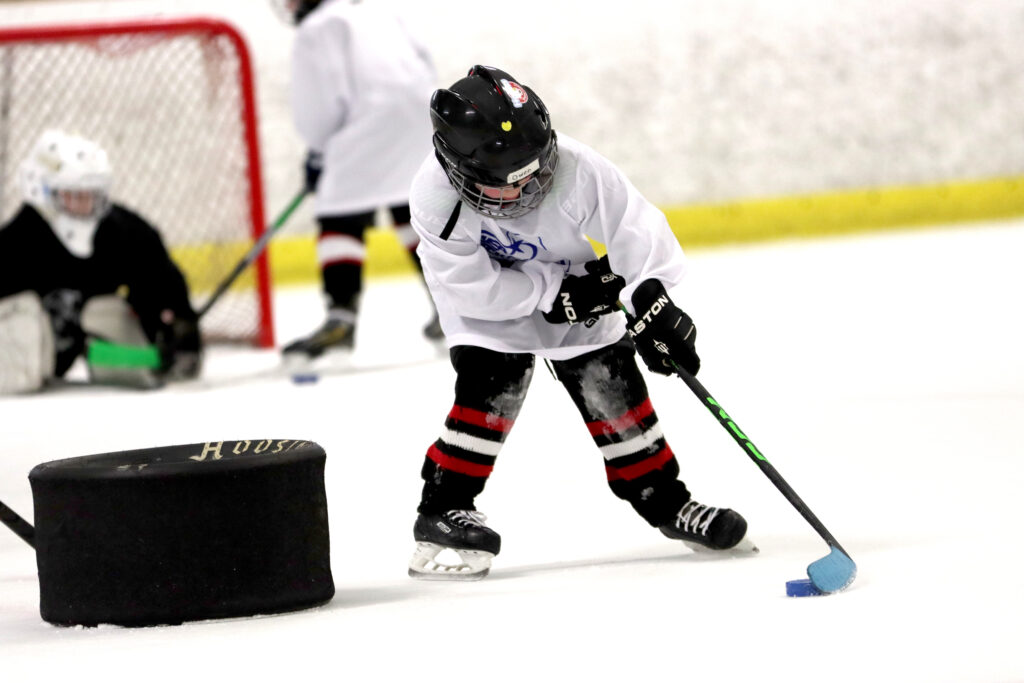 NYHOL caught up with Groff at the WNY section clinic at Northtowns. With 35 players plus 4 goalies she had a clinic that was quick moving.
"Many of the kids know me and wanted to come out with Coach Linda (Groff)."
Developing players includes a large skill set that can be monotonous but not with Coach Groff. She has a fun personality that translates into everything she does, on and off the ice.
"The drills have funny names like Star Wars, Hungry Hippos and Dog Fight; they don't even know they are learning while they are doing them," she continued.
"They are having fun!"
Groff has found that many of the skill sets she teaches aren't taught at a young age so that by the time they are ready for travel, if they choose that route, their skating stride isn't where is supposed to be and they aren't trusting their edges. So in the controlled environment and at a slower pace she can give them the help they need. If a Coach sees someone struggling, he/she can call them aside and work on them one-on-one.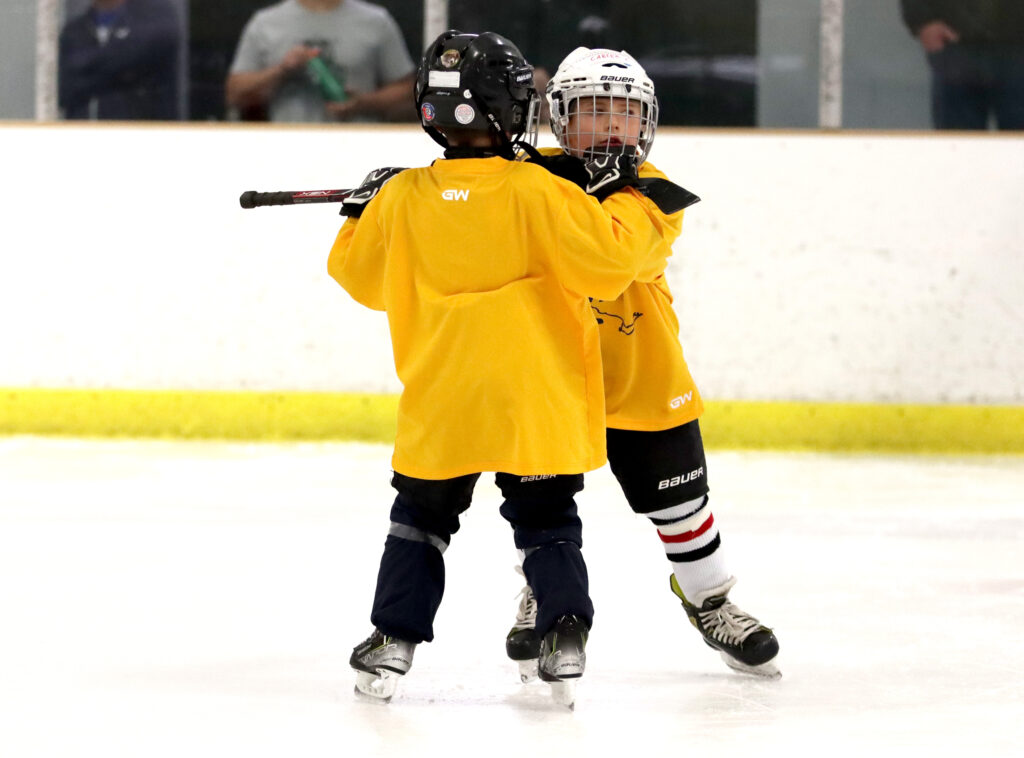 Groff also uses the fun drills to teach them how to play the body.
"So many just crash into one another and by the time they are 14 they are skating with their head down and are in line for a concussion.
"I teach proper angling, how to play the body, a safe way to hit…all based on fun," she explains. "I also teach proper body contact because in women's hockey we can't hit."
Groff's final moments of each clinic are bringing the players together and asking them if they are having fun and if they still like hockey after the session. At Northtowns they were cheering their answer!
"The worst thing to see is a kid crying or saying 'I don't want to do this," she said.
Groff does take some travel kids in the program if they ask because she doesn't want to deny any child ice time. But she tells them that these are teachable moments.
"I had travel players on Long Island and there I explained ways to play so they don't think they have to carry the puck all the time," said Groff. "I taught them that they had teammates, had to trust them and pass the puck through the open space to them."
There are clinics all year long, all over the state and country but again, most of these are focused on children that are on travel teams and seeking more development. They are also fast-paced and very few grassroots basics are taught.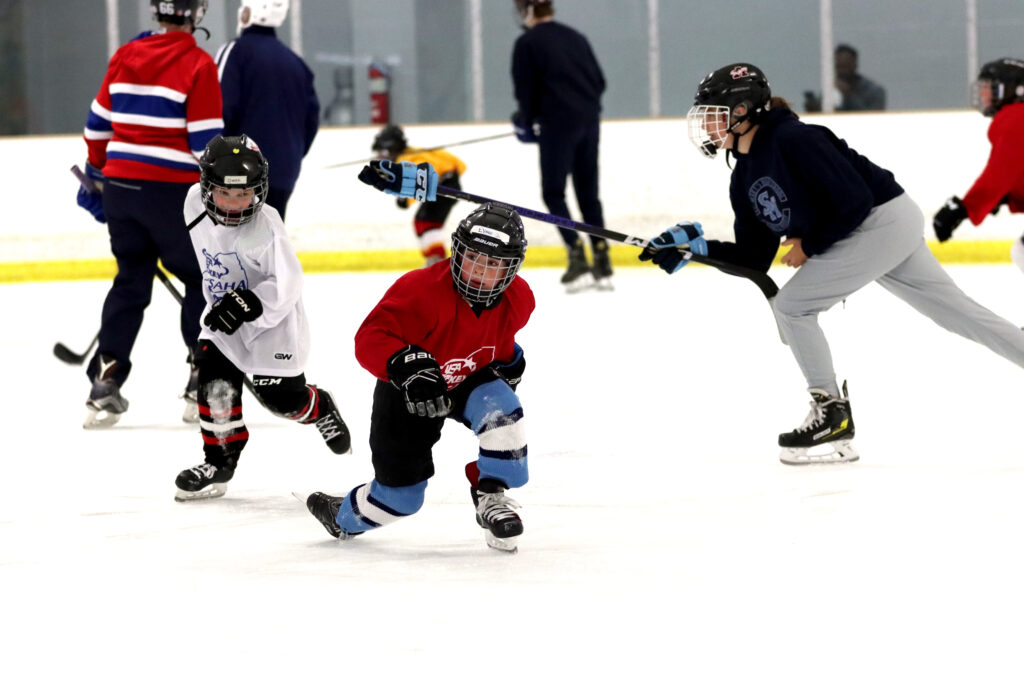 She looked at the National clinics that come through Buffalo and most of them are development camps for boys and girls over 14. They are specifically designed to move these players up the ranks from travel. While there could be players on house teams that could make that if given the opportunity, they aren't part of those camp invitations.
Her hope is that USA Hockey will take a look at this clinic and make is the prototype for a nation-wide program.
"We are all about growing the game and being diverse so because they want to play recreational doesn't mean they shouldn't get the extra attention," said Groff.
"USA Hockey was actually here this weekend for a coaching development clinic and so they did stop in a take a look at what I was doing," said Groff, who will be making a presentation on the clinic at the annual meeting of USA Hockey.
Groff explained that while she was lucky to have the support of her parents to go from grassroots to travel to playing collegiate hockey with Niagara University's DI Women's Program; as a single Mom she couldn't make that commitment or her children. They also didn't want to play travel at the time but they wanted to play hockey.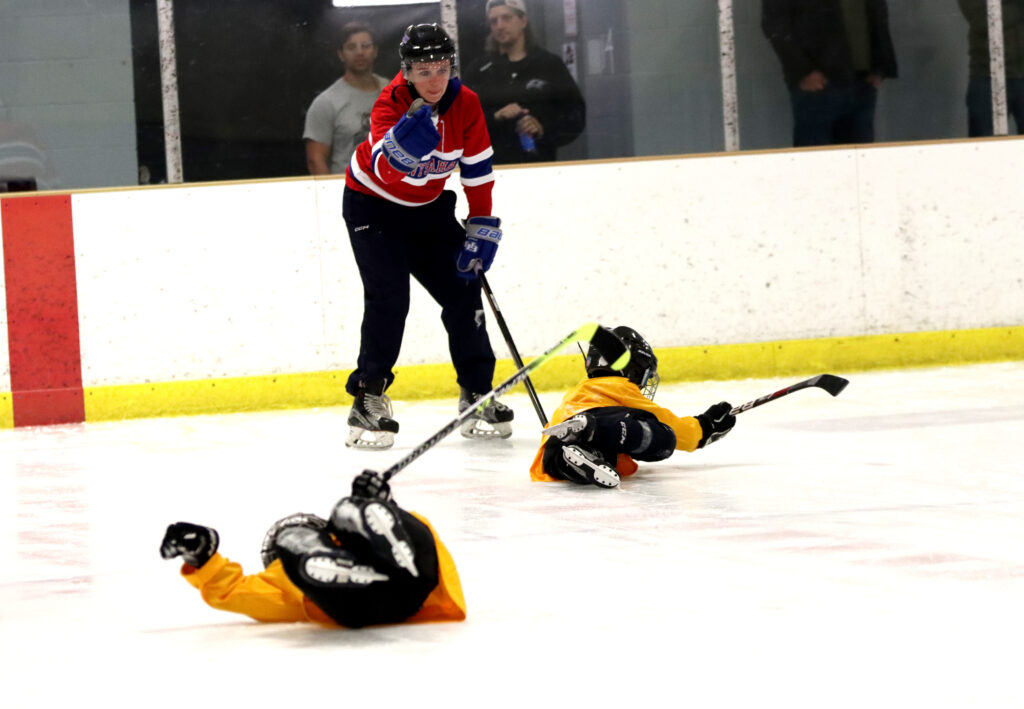 "We need to introduce House leagues and recreational leagues again and build that up," she explains. "Having these clinics be an option will introduce kids to hockey.
We have Try Hockey for Free, Try Goalie for Free so getting those kids to sign up and explaining to the parents its two or three times a week and a game on the weekend may be a better option than travel.
"Being part of a team, making new friends in a team atmosphere are all life lessons," said Groff, who thought about giving up the game but just couldn't.
"I do not want to ever stop," she concluded.