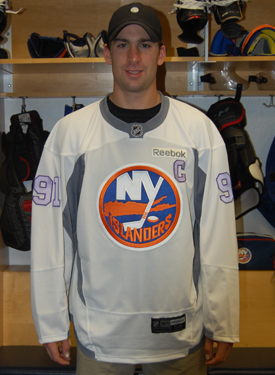 As the calendar turns to October and the New York Islanders return to the ice for another exciting season, the organization is once again proud to support hockey's fight against cancer. The Islanders will bring awareness of local cancer patients, non-profit organizations and hospitals, while helping raise funds to battle this terrible disease.
The Islanders Fight Cancer initiative, now in its 15th season, stands as one of the cornerstones of the team's official charity, the Islanders Children's Foundation (ICF). Every year, the team holds fundraisers during games at Nassau Coliseum, on-line and at special fan-centered events throughout the season.
The Islanders Fight Cancer initiative is under way and we are asking our fans to support this cause in their homes, schools and places of work. Throughout October, NewYorkIslanders.com will be sharing stories from those who have had firsthand accounts of this terrible disease. If you have a story you'd like to share from a friend, family member, co-worker or yourself, please send it our way, along with pictures, to [email protected].
This October the New York Islanders are highlighting the following organizations:
Smiles for Scott: The Smiles For Scott Foundation, Inc. is a 501(c)(3) charitable organization established to honor the life and memory of Scott Loeb, the son of Debbie and Larry Loeb. Scott passed away in 2005 from medulloblastoma, a form of brain cancer, at the age of 5. The objective of the Foundation is to raise funds to enhance the care and lives of children afflicted with cancer. The Foundation was named in recognition of Scott's contagious smile.
First Company Pink: First Company Pink is passionately committed to raising funds to support lifesaving breast cancer research. Their focus is to promote wellness and increase public awareness. Their efforts are aligned with the Breast Cancer Research Foundation aimed to fund clinical and transitional research, seeking prevention before a cure is needed.
Greek Children's Fund: Greek Children's Fund is affiliated with Memorial Sloan – Kettering Cancer Center (MSKCC) and Schneider Children's Hospital (SCH) to provide financial assistance towards the daily, non-medical needs of Greek, Cypriot and Greek-American children and their families. One of the primary objectives that GCF has achieved is an endowed program at MSKCC that will secure its services to Greek patients in perpetuity.
Steven and Alexandra Cohen's Medical Center: A truly unique facility, Cohen Children's Medical Center is dedicated exclusively to the care of children and committed to providing the most sophisticated, state-of-the-art care in all major clinical areas. Family centered care is the core of their mission. The Cohen Center's discoveries, advancements and achievements over the years have garnered recognition as one of the nation's preeminent children's hospitals.
John Tavares models the special Hockey Fights Cancer jersey, which the players will don during warmups on Oct. 26. SEE THE BACK

Fans coming to the Oct. 19 contest against the Carolina Hurricanes are encouraged to wear pink for Breast Cancer Awareness Night.
On Oct. 26, Hockey Fights Cancer Night, the New York Islanders will provide a check to Steven and Alexandra Cohen's Medical Center during a pre-game on ice presentation for all of their hard work.
The New York Islanders will be wearing "Hockey Fights Cancer" jerseys during warm-ups at their Oct. 26 game against the Philadelphia Flyers. From Oct. 1-15, fans can bid to win their favorite player's "Hockey Fights Cancer" jersey. All proceeds will go to the Islanders Hockey Fights Cancer Initiative. Fans with the highest bids will receive two tickets to attend the Oct. 26 game, where they will pick up their jersey.
Prostate Cancer Awareness Night is scheduled for Oct. 29, when the Islanders take on the cross-town rival New York Rangers. That is the last Islanders game before November, which is designated by the NHL as Prostate Cancer Awareness Month.
Throughout October, a portion of the proceeds from each pink cotton candy sold will go toward the Hockey Fights Cancer initiative. Also, $1 donation slips will be sold on the Coliseum concourse, and fans who make a donation will have their name on the Islanders Hockey Fights Cancer Wall.
We as a Long Island community can come together and do our best to stop cancer in its tracks.