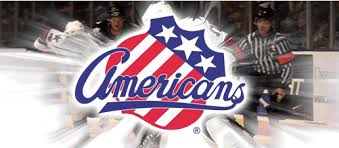 BY WARREN KOZIRESKI —
Hershey scored about midway through the second period and made it stand up as Rochester suffered their third shutout of the postseason in a 1-0 loss. The Bears win the Eastern Conference series to advance to the Calder Cup Finals against the winner of Coachella vs. Milwaukee and end the Amerks unlikely playoff run. The Bears remain undefeated on the road in the postseason at 6-0.
"It's tough when you look at the small picture especially, but you take a step back, which is kind of hard to do right now and look at everything from September training camp to where we are now and…look at the big picture and to be where we are right now is pretty special," Amerks captain Michael Mersch said.
"It's been a helluva ride with the team; a lot of ups and downs but at the end—maybe you don't feel it right now—but a helluva season," rookie forward Isak Rosen said. "Of course we need to score on that (a five-on-three power play for 1:23 in the second period)…we tried everything."
Malcolm Subban made 18 saves in the loss as Rochester had largely the better scoring chances but could not convert.
This marked the first time Rochester has played a game in the month of June since advancing to the Calder Cup Finals in 2000 against Hartford.
"It took time for us to be who we became, and they had to fight really hard to become a team that played the right way and loved playing for each other…but we grew to that," Rochester head coach Seth Appert said.
"(Being one of) the last four teams playing in this league was not preordained for this group. Last year it had been 20 years since (Rochester) had won a playoff series and now we've won four in two years and…there's going to be a North Division banner in this rink for the first time in two decades.
"It's not the banner we wanted, but it's still a banner that we'll be damn proud of."