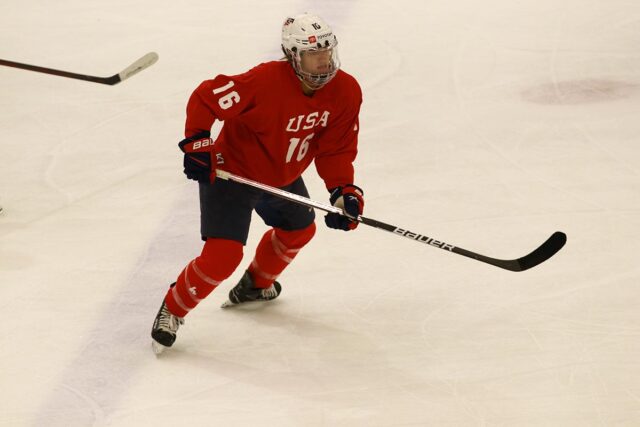 BY RANDY SCHULTZ –
Age: 27.
Most people would consider 27 to be a young age. Youthful and heading into their prime years.
But for athletes it can be a different story. Twenty-seven could represent their prime years with everything heading down hill after that.
At 27 Hayley Scamurra is considered a veteran of the women's hockey world. She already won a silver medal as part of the USA Women's Olympic 2022 hockey team, and silver and gold medals as a member of the USA Women's hockey team at the IIHF Women's World Championship to her credit.
So why worry when you are invited to participate in the 2022 USA Hockey Women's National Festival held in Buffalo? Scamurra should be an automatic choice to make the USA Women's World Championship, right?
"When the selections were made and I was on the list, it was like a huge weight lifted off the shoulders," answered Scamurra, a native of Getzville, NY. "It was a really competitive camp.
'There was a new coach and a lot of young players. In the end I'm just happy to be a member of the team."
The team Scamurra will be playing for is Team USA in the 2022 IIHF Women's Hockey World Championships being held in Denmark.
So how does it feel to be one of the "veterans" on the team?
"It still feels kind of weird to me," responded Scamurra, the daughter of former NHL'er Peter Scamurra, also a Western New York native. "It's an honor to be on a team with several other veterans, who have a bit more experience than I do.
"I try to help out the younger players and those that are on the team for the first time. I feel a little closer to them because I feel that I was just in their shoes.
"I think I can reach them a little bit more."
Among the other veterans on the team that Scamurra referred to include Hilary Knight, Amanda Kessel and Hannah Brandt.
While at the Festival Scamurra also got a glimpse of USA Hockey's future with the U18 camp.
"I watched them and they were very good," commented Scamurra, who played her college hockey at Northeastern University. "They were a lot of fun to watch."
Scamurra admits that being a part of the 2022 Winter Olympic Women's Hockey team was a huge experience.
"The Olympics are such a huge stage," remarked Scamurra, who was drafted 10th overall in the 2016 NWHL Draft by the Buffalo Beauts. "Especially after you go through the opening ceremonies, that's when you realize just how big an event it is.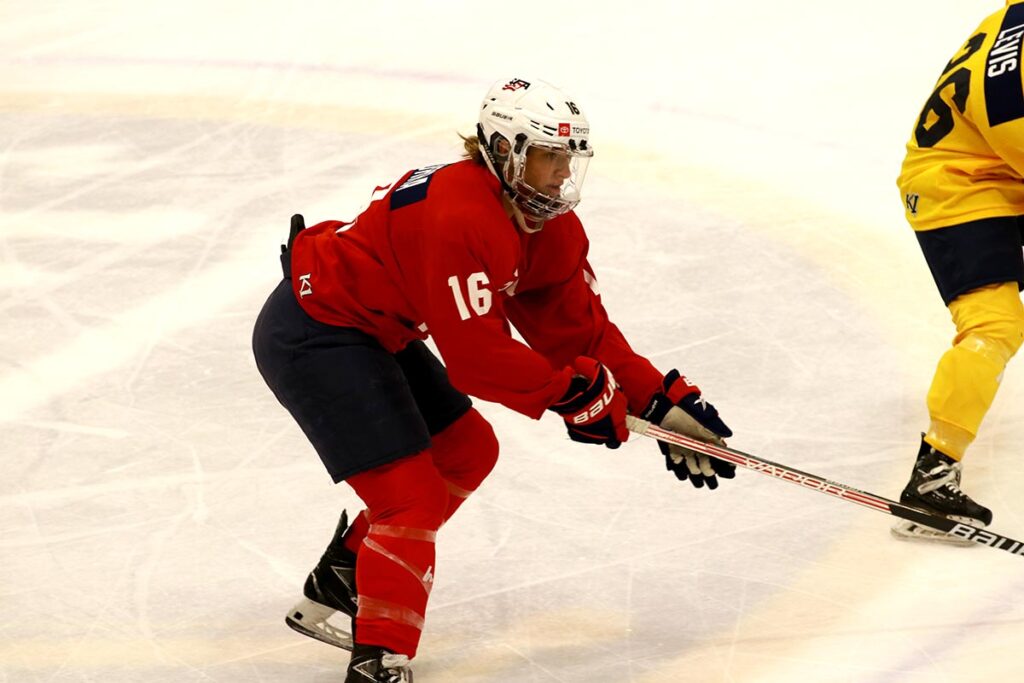 "I truly loved my time in Beijing (China). It was a little bit weird with COVID and it was really strict having to wear a mask all the time.
"We got to go to other sporting events as well as the opening and closing ceremonies. Of course never being at any other Olympics, I really didn't have anything else to compare it to.
"And getting the chance to wear a USA uniform is always an honor. It was something that I will never forget."
Scamurra was introduced to the game during her younger days growing up in the Buffalo area. That's when her dreams began to someday be in the Olympics.
"I did dream of being in the Olympics," said Scamurra, whose mom, Rebecca, lives in Maryland. "I think as I got older that dream went into the distance.
"Instead, I was focusing on the smaller stuff ahead of me like getting into a college and making a pro team. And as I moved up the ranks I realized that making the Olympic team was my main goal all the time."
Scamurra still laughs when reminded about her baptism of fire, so to speak, in hockey came at the age of three. She was put in goal and faced shots from her older brothers.
"They had to put someone in net, so I guess the youngest one had to do it," laughed Scamurra, who attended USA Hockey player development camps as far back as 2008 and 2009. "But I gave up and got out of being a goalie pretty quick.
"I think I played it one other time in a house league. But that was it."
Having a father who played professional hockey has certainly helped Hayley during her hockey career.
"I talk to him quite a bit," stated Scamurra. "He has good insight into my game. He's given me a lot of good information over the years."
With all of her hockey experience, does the 5-8 forward feel she still has things to work on to improve her game?
"Always," commented Scamurra. "I think there's always things to work on.
"I work on taking some of the stronger parts of my game and making them better. I also work on things like hand/eye coordination like tipping a puck in front of the net, in tight shooting and getting those gritty goals.
"There's always things to work on for sure."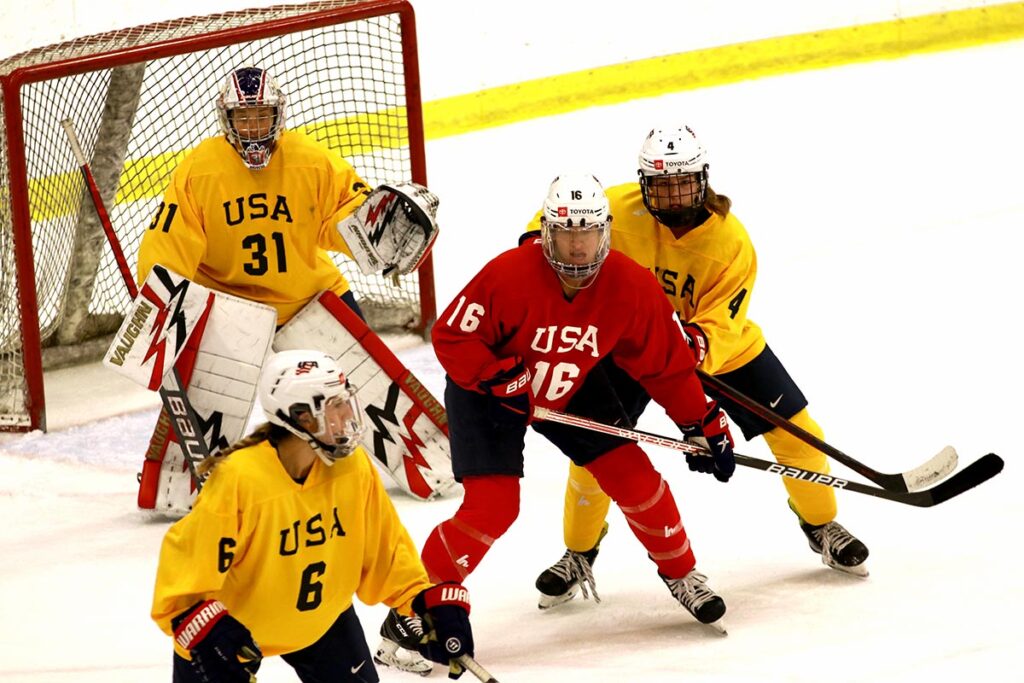 With everything that she has already accomplished in her hockey career, what is left for Scamurra?
"To go back to another Olympics, for sure," concluded Scamurra. "I'd like another shot with the 2026 Olympics.
"A huge goal of mine is outreach. To work with young girls and making sure they are aware of what their options are and that they can reach these levels.
"It's always nice when I take my silver medal from the Olympics and show these girls just how high and far you can go.
"As far as I'm concerned, the sky is the limit for girls and women in hockey today. I'm just glad to be a part of it."
(Photos by Janet Schultz Photography, NY Hockey OnLine)