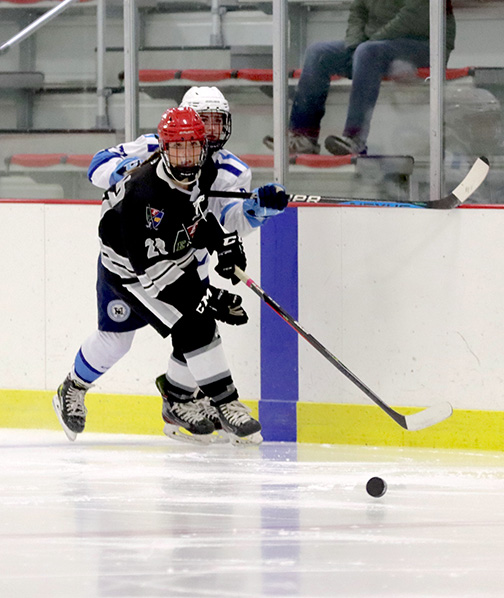 By Janet Schultz, NYHOL
The Western New York Girls Varsity Ice Hockey Federation will open their 14th season on Monday, November 27. Hamburg/Eden/West Seneca will take on St. Mary's of Lancaster at the Cheektowaga Rink at 4 p.m.
While no new teams have come into Section VI of the Federation, Webster (Rochester) will be icing a team this season representing Section V. They will make several appearances facing our Section VI teams. Details on this program are forthcoming.
A new coach will be behind the bench for Kenmore/Grand Island/Lockport; actually he is just moving from one position on the bench to another. WNYGVIH KGIPort Assistant Coach Matt Miller will take on the Head Coaching position. Miller has been with the team since its inception and is also the Statistician for the League. (Pictured L to R below: Retired Coach Jeff Orlowski, Asst. Coach Mark Bourgeault and new Head Coach Matt Miller)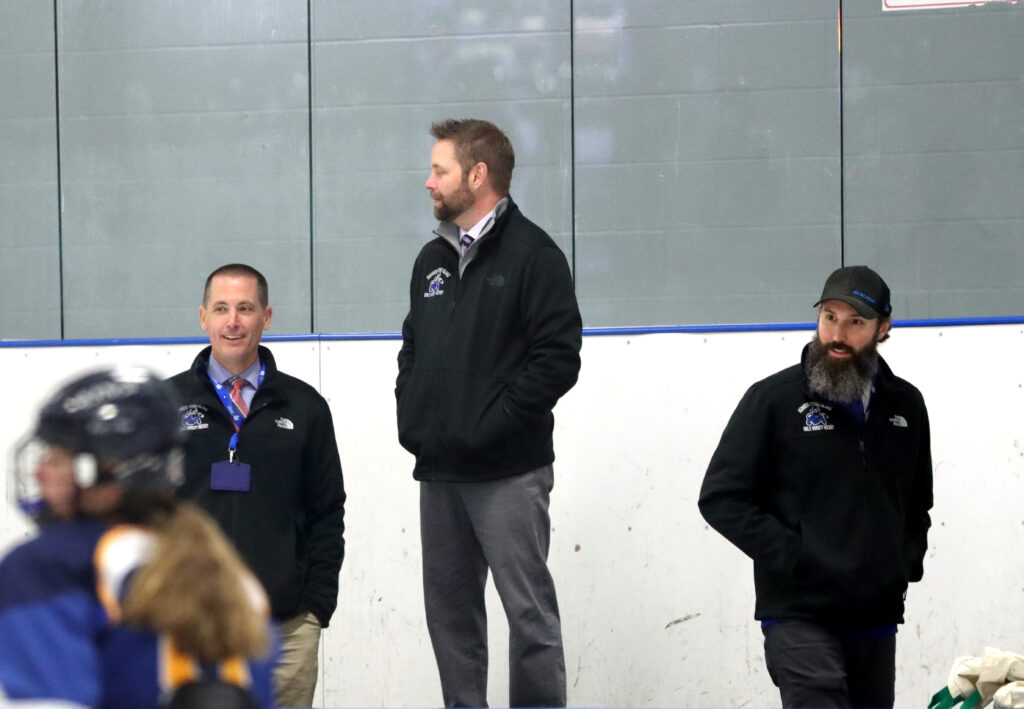 Not only does Miller have a new position but his team will be playing out of a new venue. They will head across town to Brighton Arena and play in the old facility as the new one is being build. Ice has been removed from the Lincoln Arena. the Brighton Arena is located off Parker Blvd. at 251 Brompton Road, Tonawanda.
NiCo is also making a change in locations, they are adding Cornerstone Arena in Lockport and Dwyer Arena on the Niagara University campus as home locations; along with practicing at Hyde Park Arena, their former home.
NiCo will host their annual Niagara County Tournament on Friday, December 15 and Saturday, December 16 at Cornerstone Arena in Lockport. Opponents will be named shortly.
In addition, Williamsville will be hosting Oswego Girls Varsity on Saturday December 16 and Frontier/Lakeshore/Orchard Park will host Oswego on Sunday, December 17. The Williamsville game will be at Northtowns Center and FFLOP will play out of Leisure for that game.
Moving forward to playoffs. The Section VI quarterfinals, as well as semis and Championships will be played at Buffalo State University's arena.
Quarterfinals are scheduled for Tuesday, February 6 at 4:30 p.m.; 6 p.m. and 7:30 p.m. Semis will be played Thursday, February 8 at 4:30 p.m. and 6 p.m.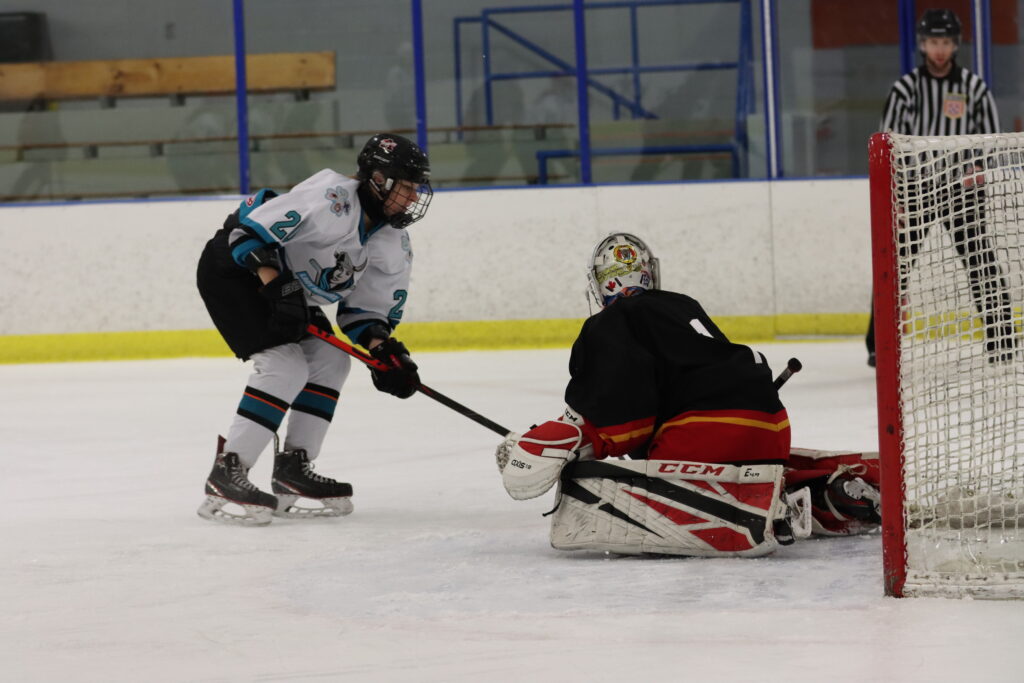 The Private School Championship will be played Monday, February 12 at 6 p.m. and the Section VI Championship will be played at 4 p.m. The Section VI champion moves on to the New York State Championship. The NYS Championship will be played at the Nexus Center in Utica February 16 and 17.
The Niagara Frontier Officials Association are once again this year presenting the Derek Cline Scholarship to one female and one male player in the Section VI ice hockey federation. Last year Trinity Kehoe of Monsignor Martin was the recipient of a $1000 scholarship. This year the scholarship will be $1500. Application information will be available in all arenas (a QR code on a poster will take you to the website) or at www.DClinefoundation.com Deadline for applications will be in January.
In related official news, neckguards and mouthguards will be mandatory for all players in the Federation.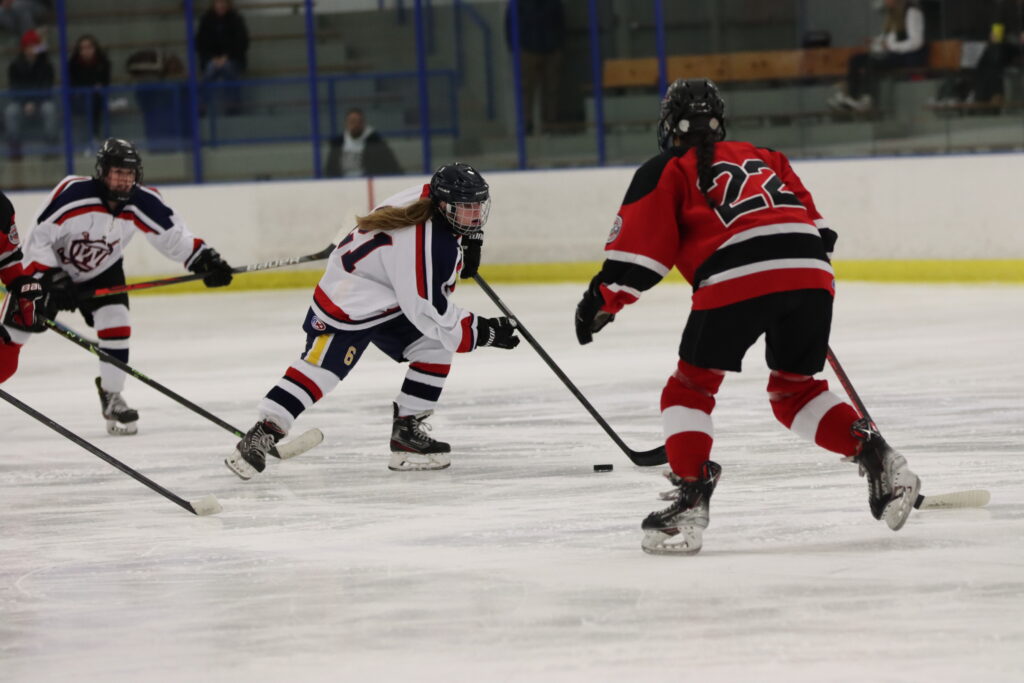 You can follow WNYGVIH Federation on NY Hockey Online's Facebook, NYHockeyonline and Twitter @NYHockeyOnline accounts as well as www.nyhockeyonline.com We also have an Instagram account, nyhockeymag.
Also the WNYGVIH website: www. wnygirlshockey.com and the Twitter account @wnygvih and Facebook page, WNY Girls Varsity Ice Hockey
WNY Athletics will be streaming several girl's games, as well as boys. You can subscribe by going to https://www.nfhsnetwork.com Once again this year NYHOL's Randy Schultz will be on the WNY Athletics broadcast team.
NYHOL will be posting the schedule and providing a 2023-24 WNYGVIH Preview once everything is ready to go. Get ready for another great season of girl's varsity ice hockey in Western New York.