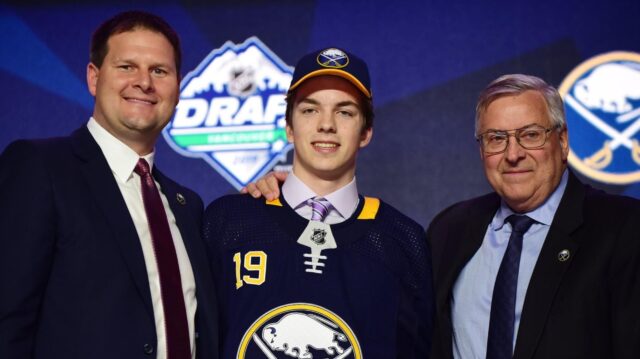 By Warren Kozireski —
The Buffalo Sabres have a pretty successful track record of drafting players from the University of Minnesota. Mike Ramsey (1979), Erik Rasmussen (1996), Keith Ballard (2002), Thomas Vanek (2003) and Casey Mittelstadt (2017) were all Golden Gophers and they hope to add to the list with their second of two first round selections in the 2019 draft in defenseman Ryan Johnson.
This pick was part of the package acquired from St. Louis in the Ryan O'Reilly deal.
Johnson just completed his junior collegiate season after losing to top-seed Minnesota-Duluth in the national semi-finals. Minnesota received an at-large bid to the NCAA tournament and won the Worcester Regional to advance to the Frozen Four.
Johnson, who has added almost 20 lbs. to his 6'1" frame since being drafted, was the second-highest scorer among Golden Gopher defensemen this past season with a career-high 19 points.
This followed a whirlwind sophomore campaign of being named Honorable Mention All-Big 10, sharing the team's Mike Crupi Most Determined Player Award for the second straight year and helping the U.S. National Junior Team win a gold medal at the 2021 IIHF World Junior Championship.
Even more telling of his commitment to the team is he was second on the team in blocked shots with 44 in 38 games.
"I think I definitely developed and grew as a player and kind of took the role of a third-year guy being a leader," Johnson said an hour after the final loss of the season.
"Even though I'm not a huge defenseman as far as size, I make up for it with my speed and quickness when breaking out the zone with the puck," Johnson said.
Prior to college, Johnson was in the USHL at Sioux Falls, where in 54 games he recorded 25 points (6+19) and a plus-24 rating, both of which were good for second among rookie defensemen in 2018-19. He followed his regular-season performance with eight points (2+6) in 12 playoff games to help lead the Stampede to a Clark Cup victory as the USHL's champions and was named to the USHL All-Rookie First Team.
Ryan's father Craig also played for the Golden Gophers before playing in over 550 NHL games on left wing largely with the Los Angeles Kings where Ryan was born in 2001.
And Johnson isn't the only U. Minnesota player Sabres fans should keep an eye out for.
Freshman forward Aaron Huglen, selected by Buffalo in the fourth round in 2019 when they moved up in a trade with Vancouver, netted seven goals with nine assists in 36 games as a freshman.
"He stepped up in a big role as a freshman and worked really hard. He's a great guy on the ice and off the ice too. And a pretty good skater…special."
Johnson now has a decision to make. Does he return for a senior year in Minnesota or does he turn pro. Since he was drafted more than two years ago, the Sabres have 30 days to sign him after he leaves school or he becomes a free agent.
(Photo By Koz)