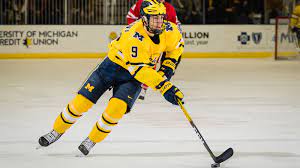 By Warren Kozireski —
Every National Hockey League team is focused on drafting players in the later rounds that are a) flyers on ones that have size or another attribute that can blossom with time or b) players they can own the rights to for a longer period such as college players.
The New York Rangers probably saw a little of both in their 2019 seventh round draft choice in University of Michigan senior forward Eric Ciccolini.
Months prior to being selected, NHL Central Scouting described the Vaughn, Ontario native as one with "high-end skill set … good offensive hockey sense … has puck-on-a-string control … can see the ice at top speed … dynamic offensive threat … speed and quickness are difference-makers."
One of 15 lettermen returning from last year's Frozen Four semi-finalist, Ciccolini helped the Wolverines return to the Frozen Four as they rattled off four straight wins to take the Big Ten crown before beating Colgate and Penn State in Allentown to win the NCAA Regional.
"It's a good experience—I was here last year, but didn't play, so I took it all in, saw what's it's all about and it's great to be back and playing and making sure I make the most of it," Ciccolini said before their semi-final loss to Quinnipiac.
"It's good to be around everyone and try to make an impact on the younger guys on every play and every shift."
Ciccolini scored in the regionals against Colgate, a goal that ranks pretty high on his list.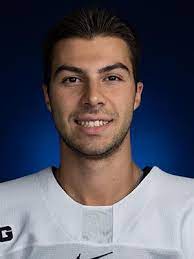 "One of biggest ones for me. Pretty cool to play in big game like that and scored the game-winning goal even though we scored 11. It was a pretty proud moment for me for sure."
The 5'11", 170 lb. tied his collegiate career best with seven goals this season, but has been forced to rebound through multiple injuries in his career including a concussion, shoulder and knee. He was limited to just four games as a junior.
"My freshman year I played through an injury and then getting hurt again I saw last year how much success the guys had and how much fun they had and I just wanted to come back and do the same."
Ciccolini spent his U-15 and U-16 years with the Vaughn Kings before jumping to the OJHL with The Milton Icehawks and Toronto Jr. Canadiens, where he had his most successful offensive campaign with 62 points in 48 games prior to joining Michigan.
And he was drafted the summer after that explosive season and was present in Vancouver to hear his name called.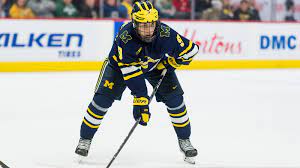 "It was a great experience and I'm happier that I was there than at home…and looking back it is something I will always remember."
Then came two Development Camps with the Rangers, which left quite an impression.
"The facilities are great down there and meeting some new guys was pretty good. It's so much faster and everyone's so much bigger and stronger at the next level, but those camps are pretty comparable to here because we play at that high level, especially in the Big Ten."
In addition to his speed and hockey sense, Ciccolini feels he does have a good shot.
"Something I probably need to use more and it's something I've honed in on and working in the summers to get better. I just hesitate and I need to shoot more."
If the Rangers sign the 22-year-old, the next stop is likely the American Hockey League and the Hartford Wolf Pack.
(University of Michigan Athletic/Hockey Photos)