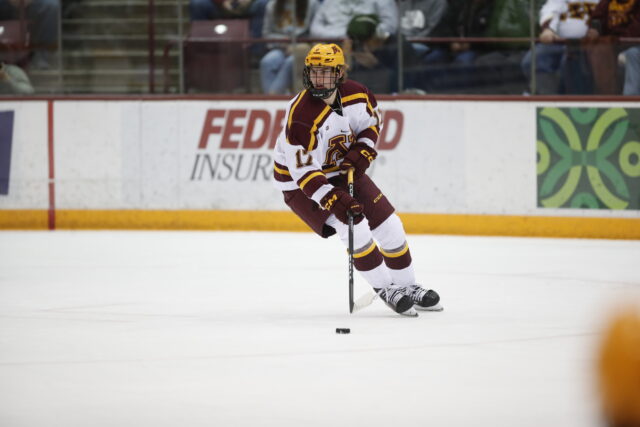 By Warren Kozireski —
Brody Lamb is getting used to being on the big stage, but nothing quite like this, his freshman season with the University of Minnesota, who advanced to the Frozen Four championship game in front of 19,000 fans in Tampa, Florida.
The big stage prior to this season was at the Minnesota state tournament leading Dodge City Prep in 2022-22 finishing fourth on the team scoring 41 points in 62 games, with a team-best 12 power-play goals. One year prior he led the state in goals (52) and points (87) as a high school junior.
The 19-year-old (20 in August) is taking it all in stride though. He had blocked one shot and had one shot on goal in the Golden Gophers semi-final victory over Boston University.
"After qualifying for the Frozen Four, it was obviously a fun time and then, when Tuesday hit, focusing on not getting too distracted and focusing on our game," Lamb said prior to the semi-final.
"It's obviously different, but the state high school hockey championship was, at that time, the biggest thing in my life and it's a lot of pressure as well, but coming to the Frozen Four, you can feel it even more.
"But learning how to dial out the outside noise and just focus on your game and I think we should be just fine."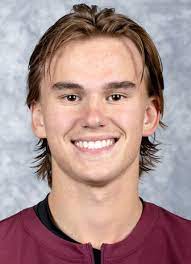 The 2021 fourth round selection by the Rangers scored four goals and added four assists this season including one goal and one assists on the big stage of the Big Ten championship.
"I think I started a little slow just kind of getting my feet wet and getting used to college hockey, but I feel like my confidence came to me about halfway through the year and I feel like I've been playing my game recently (and) playing with confidence. It's been enjoyable this last half."
His father, Jeff, played four years at the University of Denver before putting in over 200 professional games in the AHL and IHL and has been a major influence on his son and the process that is junior and college hockey.
"When I went to Green Bay after my high school season, I was talking to quite a few teams during covid zoom calls and on the phone a lot, but at that time I didn't really know if I was going to get drafted or where I was going to get drafted. I had my family over and grandparents and a couple of friends and we watched the draft in my living room and then the GM called me from the Rangers and said 'welcome' and it went from there."
Then in summer Development Camp, "seeing players from all over the world and seeing their skills and their mindset and how they want to get better and show off their skills. I think it's good to compare where they're at to where I'm at.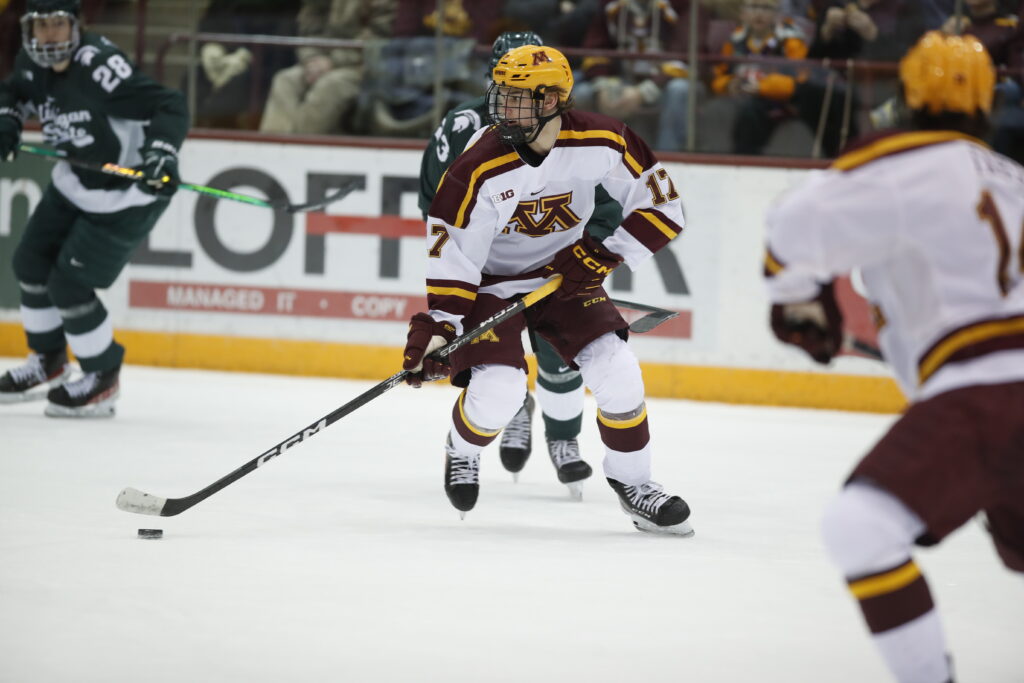 "I thought camp went well; I thought my legs felt good and I thought I played pretty well and made some plays. My dad worked with me a lot when I was younger (with skating). I learned from him and freshman year of high school I got a skating coach, and I worked twice a week with her on the fundamentals…and the little things she thought would make my skating improve."
The 6'1", 175 lb. right wing still has some filling out to do, but his skating, shooting ability and passing skills will do nothing but get better with the tough Big Ten schedule and, he hopes, more trips to the NCAA postseason.
(U. of Minnesota Athletics/Hockey Photos)