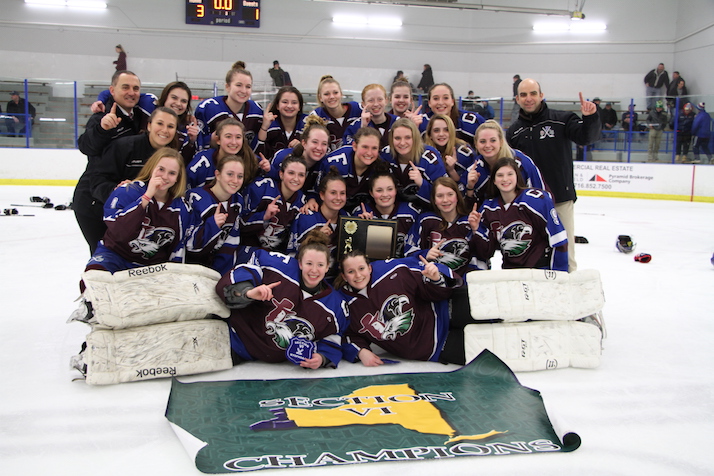 BY RANDY SCHULTZ –
AMHERST, NY – Emily Kromer scored two goals Wednesday night to lead Frontier/Lakeshore/Orchard Park (FLOP) to their second consecutive Section VI girls high school hockey championship, defeating Williamsville, 3-1 at the Northtown Center.
FLOP will now move on to the New York State Championship weekend to be held Feb. 10-11 at SUNY Oswego. FLOP will open up against Section III champion, and defending NYS champion, Skaneateles on Saturday, Feb. 10 at 1 p.m.
Williamsville jumped out to an early 1-0 lead when Ella Huntley scored on a tip-in at 8:45 of the opening period. Rachel Juneau and Kaylee Conover assisted.
But FLOP came back at the 13-minute mark with Kromer scoring her first goal of the game to tie the contest, 1-1. Her sister, Mary, assisted on the goal.
Following a scoreless second period, FLOP struck quickly in the third with Kromer scoring her second goal of the game on the power play at :26, to give FLOP a 2-1 lead. Her sister, Mary, and Taylor Gehen assisted.
FLOP sealed the game at the 4:38 mark on a power play goal by Gabby DeMeo to take a commanding 3-1 lead. Sirena Fitzery assisted.
"Our goal from our first day of practice was to get back to the State's," commented FLOP head coach, Bob Klimowicz following the game. "We didn't win the trifecta last year (FLOP lost to Skaneateles in the NYS championship game last year, 5-1). "We have some unfinished business to take care of."
FLOP outshot Williamsville, 29-23, in the penalty-filled contest. Maggie Spyche made 22 saves in goal for FLOP while Jenna Lukomski turned aside 26 of the 29 shots she faced for Williamsville.