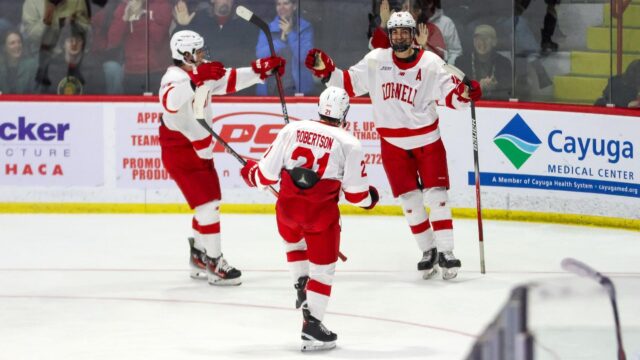 THACA, N.Y. — Senior forward Gabriel Seger registered his first career multi-goal game, and freshman Ben Robertson posted his first collegiate multi-point night, guiding the No. 12-ranked Cornell men's hockey team to a 3-0 shutout of No. 11-ranked Minnesota Duluth before another over-capacity crowd of 4,316 at Lynah Rink on Saturday night.
Junior goaltender Ian Shane recorded his ninth career shutout, shoving aside all 17 shots he faced from Minnesota Duluth (3-2-2).
Joining Seger and Robertson on the scoresheet was junior captain Kyle Penney, earning his second consecutive game-winning goal after opening the scoring in a three-goal second period for the Big Red (2-0-0).
Matthew Thiessen earned the start in goal for Minnesota Duluth, stopping 12 of the 15 Cornell shots he faced.
"We knew [Minnesota Duluth] going to have a big push coming out," Mike Schafer '86, the Jay R. Bloom '77 Head Coach of Cornell Men's Ice Hockey, said. "I thought we just got off to a slow start and didn't do the things we did last night. In the second, we did. We kicked it in, got pucks deep, got tight on defense and forced the issue."
Neither team generated much offense in the opening 20 minutes of play, as the teams combined for just four shots on goal.
Cornell opened the scoring early in the middle stanza when Penney capitalized on a perfectly executed deke by sophomore forward Dalton Bancroft. Robertson received the secondary assist on the opening tally.
Seger potted the first of his two goals on the night 83 seconds after Penney, redirecting a shot from the point by junior defenseman Hank Kempf.
Just past the halfway point of the game, Seger netted his second goal of the night when he received a pass from Robertson that was threaded through traffic in the low slot.
"To find the seam, he shows great poise," Schafer said regarding Robertson's backdoor pass to set up Seger's second goal. "He's a lot like Joakim Ryan and Yanni Kaldis. He's very similar to those two. He's got good vision, he can shoot it, and he's able to thread passes. That was a great pass backdoor to Gabe going to the net."
The Big Red had to kill off a five-minute major for interference over the final 2:44 of the contest, which also turned into a 6-on-4 situation with Minnesota Duluth having pulled their goaltender. During the penalty kill, Cornell blocked a pair of shots and Shane made two saves of his own.
GAME NOTES
• Cornell and Minnesota Duluth met for the sixth time on Saturday night, with the Big Red taking the lead in the all-time series, 3-2-1.
• The pair of victories over Minnesota Duluth marks Cornell's first time it swept a weekend series against a ranked opponent since defeating the Bulldogs' NCHC rival, North Dakota, on Jan. 5-6, 2021. It was the first such occurrence at Lynah Rink since sweeping No. 13-ranked Arizona State on Jan. 11-12, 2019.
• The Big Red's one goal allowed is the fewest conceded for Cornell in its first two games of a season since 2017 when it posted an 8-1 ledger over Alabama-Huntsville.
• Shane's shutout was the ninth of his collegiate career and is now tied with Andy Iles '14 for the eighth-most shutouts by a Cornell netminder. It was his first time blanking an opponent at Lynah Rink since posting a 21-save shutout of top-ranked Quinnipiac this past Jan. 20.
• Under Schafer, Cornell has won its last 23 games when shutting out an opponent and improved its mark to 109-0-7.
• Cornell has won its last 27 games while ahead when going into the second intermission. With Schafer at the helm of the Big Red program, its mark is 399-22-27 in those circumstances.
• The 2-0-0 start is the seventh time in the last 11 seasons the Big Red has opened the year with two consecutive victories. It is the 15th time under Schafer that Cornell has posted a pair of victories in its first two contests.
UP NEXT
Cornell will open ECAC Hockey and Ivy League play next weekend when it travels to New Haven, Conn., and Providence, R.I., to take on Yale and Brown, respectively. Puck drops for both contests are slated for 7 p.m. Both games will air live on ESPN+ and over the airwaves on WHCU (870 AM, 97.7 FM, whcuradio.com).
(Cornell Men's Hockey Photo)