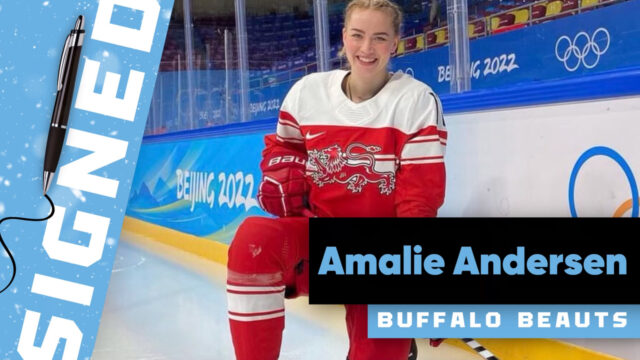 BUFFALO – The Buffalo Beauts have created history once again by signing the first player from Denmark in Premier Hockey Federation history. Defender and 2022 Danish Olympian Amalie Andersen has signed a one-year contract to join the Beauts. Terms of the contract will not be disclosed. Andersen completed her NCAA career at the University of Maine last month.
"I have heard great things about the Beauts organization and it felt right to sign my first professional contract with Buffalo," said Andersen. "Nate (Oliver) and the Beauts have treated me professionally from the start which made it feel like the right fit for me."
The 23-year-old from Herning, Denmark stands 5-foot-8 and is a left-handed shot. Andersen has been a member of the Danish Women's National Team since the age of 15 years old. She has gone 1-5-6 for scoring across 32 IIHF World Championship games between the Top Division and Division 1A. Andersen made her Olympic debut at the 2022 Beijing Winter Games and played in all four of Denmark's games.
Collegiately, Andersen played for the Maine Black Bears from the 2019-20 season through 2022-23. She went 2-7-9 for scoring through 60 career NCAA games.
"Amalie is a very rugged defender," said Beauts GM Nate Oliver. "As nice as she might be off of the ice, she has a sandpapery disposition on it. Amalie comes from a strong hockey pedigree with her father, mother, brothers, uncles and cousins all having played at a high level. Some people are just naturally gifted in that way, and I do think that there is something to be said for genetics. Aside from that though, Amalie stands entirely on her own with what she can do on the ice and we are very proud that she is now a Buffalo Beaut!"
One of Andersen's brothers is Carolina Hurricanes goaltender Fredrik Andersen.
Prior to beginning her collegiate career, Andersen played three seasons in Sweden's SDHL for Linköping HC. She totaled three goals, three assists and six points in 97 SDHL games. Andersen helped Linköping to SDHL silver medals in both the 2017-18 and 2018-19 seasons.
"I am a defender who can play confidently in both the D-Zone and O-Zone, as I have experience in all positions," said Andersen. "From my experiences in the SDHL and at the University of Maine for D1, along with my international experience, I feel that I have developed a high hockey IQ."
In addition to signing Andersen, the 2023-24 Beauts roster currently includes four returnees in captain Dominique Kremer and Allison Attea on defense, plus Summer-Rae Dobson and Emma Nuutinen up front. Forward Tatum Amy was also signed by the Beauts and joins Andersen as the team's current newcomers and two rookies.