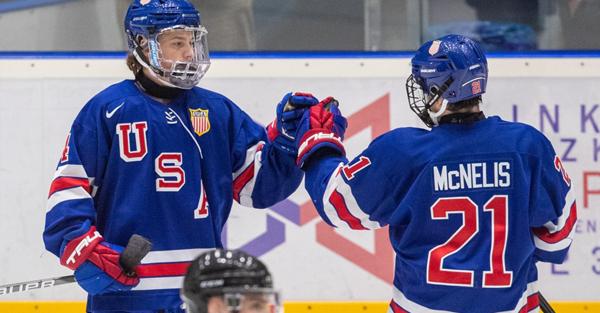 BŘECLAV, Czechia – Trevor Connelly (Tustin, Calif.) tallied a hat trick as the U.S. Under-18 Men's Select Team skated past Germany, 8-1, in their final preliminary round match of the 2023 Hlinka Gretzky Cup at FOSFA Arena Břeclav on Wednesday.
"I thought the guys controlled the game well," said Luke Strand (Eau Claire, Wis.), head coach of the U.S Under-18 Men's Select Team. "It's not an easy one when the score is out of hand. As far as Trevor, even off the score sheet he effects the game almost every shift. He complements the team very well, he gives us energy and stability."
With the victory, Team USA improves to 2-0-0-1 (W-OTW-OTL-L) in the tournament.
Connelly gave Team USA an early lead with a power-play goal at 1:43 in the first period. Ryker Lee (Wilmette, Ill.) got possession of the puck off a neutral zone face-off and chipped it back to William Felicio (Holden, Mass.) who hit Connelly with a pass heading up the ice. Connelly sped through the offensive zone before tucking the puck past Germany's goaltender.
Aidan Park (Playa Vista, Calif.) scored shorthanded at 11:38 in the first period to extend the U.S lead. Goaltender Caleb Heil (Victoria, Minn.) drew an assist on the play, clearing the puck from behind the net for JJ Monteiro (Hudson, Mass.). He beat a German defender to the puck and threaded a pass to Park in the slot.
GAME PHOTOS
Will Zellers (Maple Grove, Minn.) added to the tally minutes later after the picked the puck off a German defenseman behind the net and wacked it into the goal.
Team USA took a 4-0 lead in the final minutes of the first period when Felicio tipped a shot from Lee.
Zellers netted his second goal of the game at 15:22 in the second period after Colin Frank (Ladera Ranch, Calif.) stole the puck from a German skater. He fed a pass to Zellers in the slot to one-time into the net.
Alex Bales (East Amherst, N.Y.) added a goal on the power play at 17:24 in the second period, assisted by Finn McLaughlin (Arlington Heights, Ill.).
Germany got on the board with 1:26 remaining in the middle frame when Nicolas Biggins lobbed a wrist shot from the point.
Connelly scored a breakaway goal for his second tally of the game at 4:49 in the third period, assisted by Park. He completed the hat trick in the third period with a goal from the edge of the crease for a final score of 8-1.
NOTES: Trevor Connelly (Tustin, Calif.) was named Team USA's player of the game…Team USA's next opponent will be determined following the conclusion of preliminary round play.
(USA Hockey Photos)