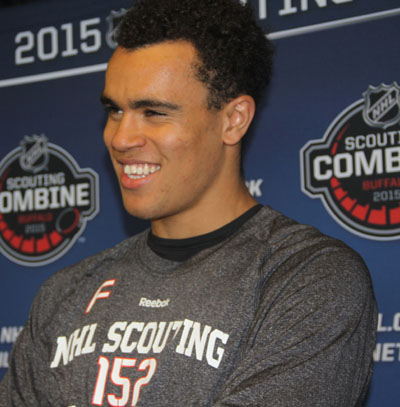 By Warren Kozireski —
Jordan Greenway has had a relatively stable hockey career spending three years at Shattuck St. Mary's prep, two years with the U.S. National Team Development Program and three years at Boston University before turning pro with the Minnesota Wild.
Now he hopes to spend some time closer to home in a Buffalo Sabres uniform after being acquired at the trade deadline for a 2023 second-round pick and a 2024 fifth-round pick.
He played his first game in a Sabres uniform Mon. March 6th.
"It was good; it was good introduction game for myself and I think as a team we did a lot of good things," Greenway said after his first game. "It was good to go out there and have fun. These guys have a lot of motivation, a lot of hunt…and it's fun to be a part of for sure."
"I think he can fit in different spots; he's a very intelligent hockey player," Buffalo head coach Don Granato said after the first game. "I think today there may have been some anxiety, but I think he's going to get better and better as he gets more comfortable. He can play right side, left side in different situations and with skilled forwards or straight-on. He's got some versatility and athleticism and skill, so we'll get him a couple games and I think he'll get into a rhythm for us."
The second-round draft pick in 2015, whose brother James is on defense with Providence in the AHL this season, spent four-plus seasons in a Wild uniform playing 317 games with 119 points and 227 penalty minutes.
"It was more just go out and play, have fun, work hard, it was great. Being able to play free, go for offense with a bunch of guys who want to go out there and score and are so motivated is definitely a different style than what I came from and definitely a style I enjoy playing."
(Photo by Janet Schultz Photography/NY Hockey OnLine) (Photo of Greenway Taken In 2015 at NHL Combine held in Buffalo, NY)