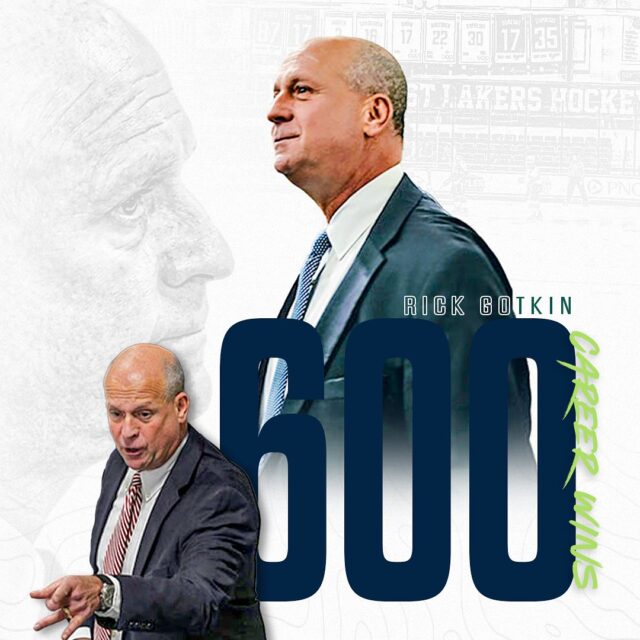 By Warren Kozireski —
Now in his 36th season as head coach of men's hockey at Mercyhurst University, Rick Gotkin registered his 600th career coaching victory with a 2-0 shutout on the road against 20th ranked RIT Saturday night.
"It was more important that we responded the way we did tonight, and it was more important that we won," Gotkin said. "And as I've said often, and I really mean this, I've been hanging around for a long time and I've been fortunate to be hanging around Mercyhurst for a long time, so 600 is far less about me and more about our program.
"I would be more than happy to accept it on behalf of our program, all of our student athletes, coaches past and present. But it's a program milestone, that's not a Rick Gotkin one."
Gotkin, from New Hyde Park, NY, has coached in over 1,200 games at the same school, third all-time in Division I behind Jack Parker (Boston University) and Red Berenson (Michigan). His 600 wins leads all active coaches in Division I.
He is the only men's hockey coach to take teams to the NCAA tournament in Division I, Division II and Division III.
One issue as freshman goaltender Simon Bucheler made 51 saves in the 600th to earn his first collegiate shutout—who gets the milestone puck?
"He gets the puck; he deserves the puck. He did a lot more than I did—I just watched."
(Photo Image Provided by Mercyhurst Men's Hockey Program)