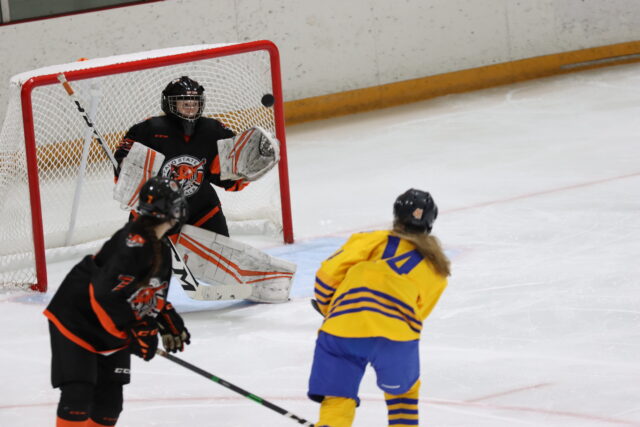 Story and Photos by Janet Schultz© NYHOL
The Buffalo State Bengals Women's Ice Hockey Team hasn't seen a playoff spots since their loss in the semi-finals of the NEWHL in 2017-18. This season Head Coach Rachel Grampp, now in her third season as Head Coach, is looking to see what the team can do in their conference. The NEWHL has dissolved and those colleges are now playing in the State University of New York Athletic Conference (SUNYAC).
"Our returners are strong," said Grampp. "I have some high expectations for them this year but I like what I see so far.
"They are showing great strides this year."
Grampp, who served as interim head coach for the past two seasons, is the seventh head coach in the 24 year history of the program.
Last season Gramp brought on Hannah Nelson as her assistant. Nelson, Libertyville, Illinois, is a graduate of Trine University where she played ice hockey and lacrosse. She also coached at the National level with the U15 USA Team.
"It helps having some consistency with an assistant and Hannah (Nelson) is back this year" said Grampp. "We think the same when it comes to practice and plans; recruiting, we like the same players and the same style of player. Having an assistant like her makes things easy."
She has seen a lot of leadership on the team through a leadership group they have formed. It's coming from the sophomores, juniors and seniors and she has seen a lot of development from those who stepped into the group.
"So now I just look for that person who will say 'I am Captain of the ship, so let's go,'" said Grampp.
"The group has been working well together so far."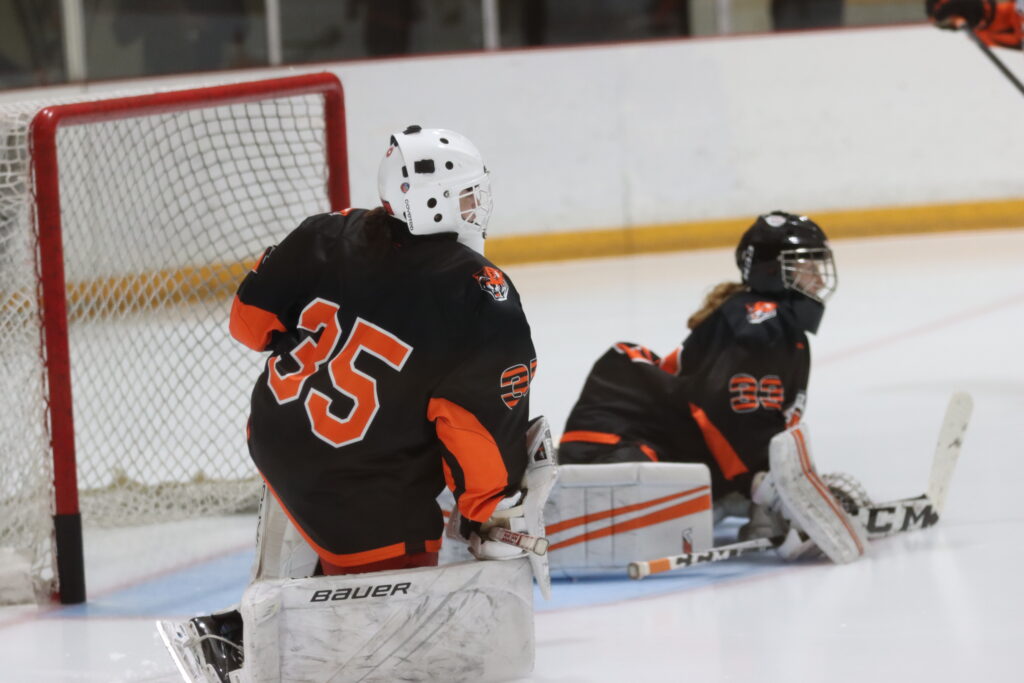 Goalie Jessica Auge is a mainstay in the net for the Bengals. Last season she played in all 25 games logging 1500.43 minutes between the posts and Grampp is looking for her to play to her full potential this season. This season there is a backup as Chelsea Kingston from Sault St. Marie and the Soo Jr. Greyhounds.
"The D core is fairly young with one senior and 2 juniors so we will be relying on the younger players back there," said Grampp.
"I think the Forward group has a lot of grittiness and a lot of speed to it. They want to be aggressive so we will play a little more aggressive this year than we have in the past based on the type of players and the number of players we have," she continued.
Getting into the playoffs is the goal, and has been the goal, of the Bengals.
"They are motivated for the playoffs and it's nice to see that," she continues. "It's more their goal than it is mine."
"It's going to be tough (making the playoffs) but I think we can do it," said Grampp.
SUNYAC, without having started its regular season, is becoming a highly competitive conference. With an 'on' night and a team with a bad bounce, Grampp feels they can compete with anybody, especially if they play the way she knows they can.
One more addition to the team are the fans. There seems to be a group that has shown up for their first two exhibition games and rooted them to victory.
"In the Stevenson game we scored to tie the game and the players skated over to those fans, it was cool to see that," said Grampp. "In my four or five seasons of being here I don't think we've ever seen that."
"It's pretty cool to see the community and the student athletes come together and support each other."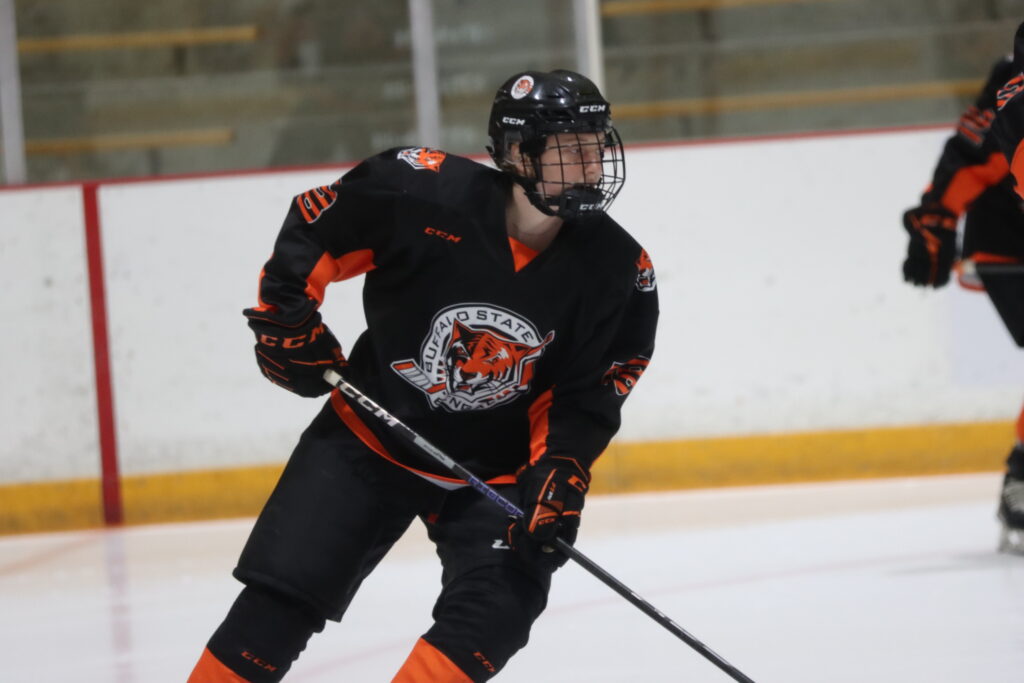 The Bengals have four of their top scorers from last season returning in Vanessa Willick, Emma Ramseier, Madi Digges and Carys Ursell. As a high school player, Willick was 16th in the WNYGVIH Federation career scoring list after posting 49 goals and 48 assists (97) in 70 games for Williamsville High School.
Buffalo State opened their season with two exhibition games, winning both. First an 6-5 OT win vs Stevenson and then a 7-1 win over Hilbert College. They now have four non-league games, October 27 and 28 vs Neumann and November 3 and 4 vs Chapman, before SUNY Plattsburgh comes to town on November 10 at 3 p.m. for the first SUNYAC game.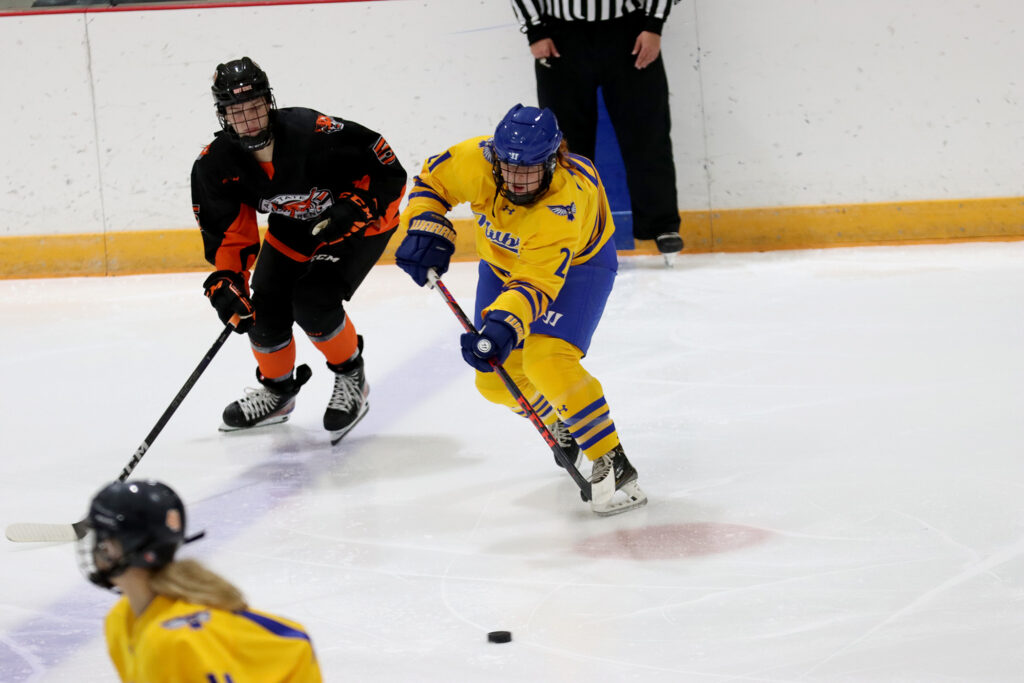 For those following New York State-born players the Bengals include Bethany Horvatits (Elma), Gabby McCory (Buffalo), Molly Leggett (Grand Island), Maddie Braun (E.Aurora), Sydney Radecki (Lancaster), Alexa Groh (Elma), Lilli Adimey (Amherst) and Rylee Garrow (Akwesasne).
Whether on or off ice, or in the classroom, Grampp sees them as the hardest working team in SUNYAC and as long as they work hard she isn't asking for anything more.