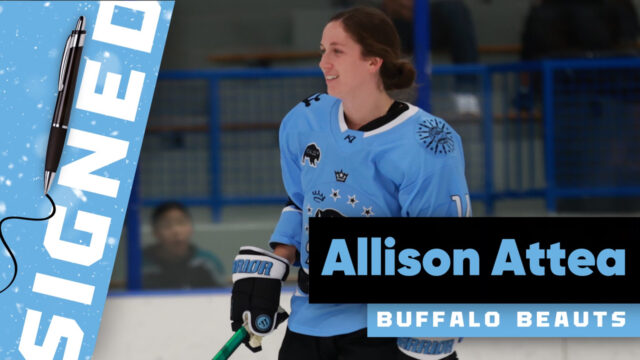 BUFFALO – Defender Allison Attea will be back for a third straight season along the Beauts' blue line. The 24-year-old left-handed shooter signed a 1-year deal with the team. Terms of the contract will not be disclosed. Attea initially joined the team as the Beauts' fourth-round draft selection (19th overall) in the 2021 Premier Hockey Federation Draft.
"I had a fantastic experience the past two seasons playing for the Beauts," said Attea. "It's a great atmosphere at the rink each day and I love playing for my hometown of Buffalo. Returning for another season was an easy decision for me."
Attea played in 18 of Buffalo's 24 regular season games during the 2022-23 PHF season. She scored the first goal of her professional career on November 6, 2022 during a 3-2 victory over the visiting Montreal Force. A stay-at-home defender, Attea is 1-2-3 for scoring in 34 regular season games during her PHF career.
"We have always liked Al's physicality," said Beauts GM Nate Oliver. "For someone who is as unassuming as she is off the ice, she doesn't ever back down from anyone when the game is on the line. If there is traffic around the Buffalo net and a lot of bodies, Attea will always get up in the opposition's grill. She has a hard shot that is also elusive, and we know she is committed to utilizing her shot more this upcoming season."
Attea played her NCAA career with Holy Cross. She suited up for 111 NCAA games for the Crusaders, with 86 of them being at the Division I level. Across her four seasons with Holy Cross, she amassed eight goals, 12 assists and 20 points. The 5-foot-7 Attea led all Holy Cross skaters in blocked shots during the 2019-20 (51) and 2020-21 (43) seasons.
"I'm confident in the upcoming season," she said. "Our team made good strides during last season, and we expect to be a very competitive team this coming season. We have unfinished business – it's time to bring the Isobel Cup home!"
In addition to re-signing Attea, the Beauts have already announced their re-signing of forward Emma Nuutinen, their free agent signing of rookie Tatum Amy, and their renegotiated second-year contracts for returning forward Summer-Rae Dobson and defender Dominique Kremer. Attea's re-signing is their fifth player transaction of the 2023 offseason.