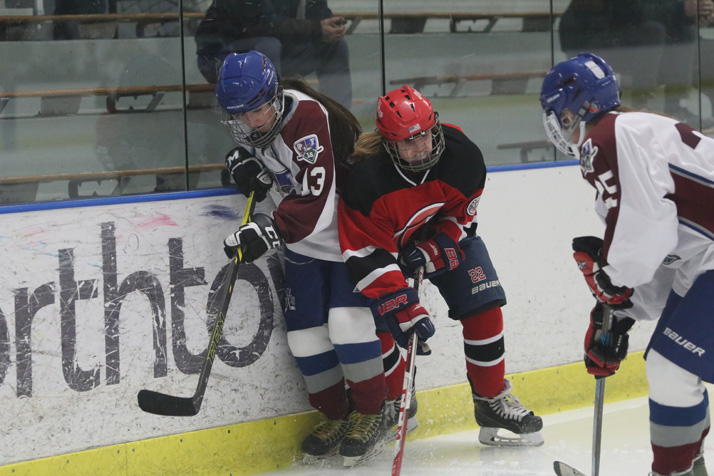 BY RANDY SCHULTZ –
AMHERST, NY – Jessica Peters scored two goals to lead Frontier/Lakeshore/Orchard Park (FLOP) girls high school hockey team to a 5-1 victory over Lancaster/Iroquois/Depew (LID) at the Northtown Center Feature Rink. It was one of two Western New York Girls Varsity Ice Hockey Federation (WNYGVIHF) semifinal games played Monday night.
FLOP never trailed in the game. They opened the scoring at 6:45 of the first period on a goal from the point by Tori Fadeley. Raegan Compise assisted.
Less than two minutes later Peters scored her first goal of the game to make it 2-0. Abigail Lillis assisted.
FLOP increased their lead to 3-0 in the closing minutes of the first period on a shorthanded goal by Mary Kromer. Sirena Fitzery assisted.
LID and FLOP traded goals in the second period. LID closed the gap to 3-1 at 3:51 on a goal by Jersey Phillips. Maddy Moran and Bethany Horvatis assisted.
A little over a minute later FLOP increased their lead again to three with Peters scoring her second goal of the game. Emily Kromer and Fitzery added assists.
Kromer rounded out the scoring for FLOP in the third period at 12:02 to make the final, 5-1. Kromer and Carey assisted.
FLOP outshot LID, 36-21 with Maggie Spyche stopping 20 of 21 shots in the nets for FLOP.
FLOP will face Williamsville at 8 p.m. on Wednesday, Feb. 7 at Northtown Center.