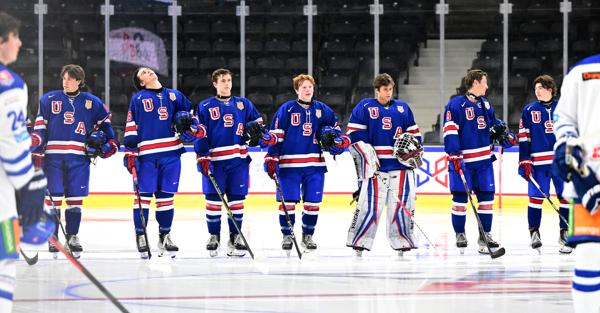 COLORADO SPRINGS, Colo. – USA Hockey announced today the 23-player roster for its 2023 U.S. Under-18 Men's Select Team which will compete at the 2023 Hlinka Gretzky Cup in Břeclav, Czechia, and Trenčín, Slovakia, July 31 – August 5.
All U.S. games in the Hlinka-Gretzky Cup will be televised live by NHL Network. Team USA opens play in the tournament on July 31 against Czechia at 1 p.m. ET.
2023 U.S. Under-18 Select Team Roster
The 2023 U.S. Under-18 Men's Select Team features nine players who were members of the U.S. Under-17 Men's Select Team that competed in the 2022 Five Nations Tournament in Colorado Springs, Colo. Seventeen of the team members are currently committed to play college hockey.
Luke Strand (Eau Claire, Wis./Minnesota State University) will serve as head coach of the U.S. Under-18 Men's Select Team, joined by assistant coaches Karl Goehring (Apple Valley, Minn./ University of North Dakota), Chad Kolarik (Abington, Pa.), Jimmy Mullin (Philadelphia, Pa./USA Hockey), and Nick Oliver (Wannaska, Minn./University of Wisconsin). General manager Marc Boxer (Hancock, Mich./USA Hockey) is joined by player personnel staff Troy Ward (Saint Paul, Minn./Minnesota State University) and Tony Gasparini (Lakeville, Minn./Sioux Falls Stampede). Parker Metz (Fargo, N.D.) will serve as team leader with team physician Dr. Anthony Abene (Los Gatos, Calif.), athletic trainer Jacqui Gutierrez (Charleston, S.C.) and equipment managers Ross Chicantek (Portage, Mich./Western Michigan University) and Andrew Zagorianakos (Providence County, R.I./Providence College).
NOTES: The U.S. will compete alongside Czechia, Germany, and Sweden in Group A at the 2023 Hlinka Gretzky Cup. Canada, Finland, Slovakia, and Switzerland will compete in Group B … Team USA has finished in the top three of the Hlinka tournament 13 times since the tournament began in 1991. The U.S. won the tournament in 2003, has finished second on nine occasions (1993, 1994, 1996, 1999, 2000, 2006, 2010, 2013, 2016) and third three times (1991, 1995, 2014).
(USA Hockey Photo)