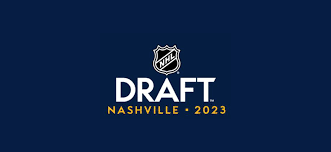 By Warren Kozireski —
Eight players from New York State—five from the New York metropolitan area, two from Buffalo and one from the North Country—are among the National Hockey League Central Scouting's final rankings for the 2023 NHL Draft to be held June 28-29 in Nashville, Tennessee.
Quinton Musty is a 6'2", 205 lb. left wing from Hamburg, south of Buffalo. He moved down three spots from 11th to 14th among North American skaters and is a projected first round draft pick. Musty finished his second season with Sudbury in the Ontario Hockey League after coming out of the Buffalo Jr. Sabres program. He had 26 goals and 78 points over 53 games. He tied a program record in December with seven points in one game, was named to the OHL's second all-rookie team in 2021-22, after registering 31 points in 50 games, and donned the sweater of Team United States in the Hlinka-Gretzky Cup last August, leading the squad with five points in four contests.
Akwesasne native Carey Terrance rose to 38th in the final rankings from 50th at midterm. The 6'1" and 174 lb. center had 30 goals and 47 points over 67 games in his second season with the Erie Otters in the OHL.
Fellow western New Yorker Gavin McCarthy (Clarence Center) dropped from 39 to 52. The 6'1", 181 lb. defenseman with Muskegon in the USHL had 26 points over 40 games. He is committed to Boston University in the fall.
U.S. National Team Development Program defenseman Drew Fortescue of Peral River, a Boston College commit for 2023, is ranked 60th –down two slots from midterm. He is a 6'3", 170 lb. left-shot defensive defenseman with 23 assists over a combined 50 games of the mixed team schedule between the USHL and against college programs. The Boston College commit also played for the U-18 Team USA squad at the World Juniors.
New York City's Stephen Peck is the only goaltender—ranked seventh in North America. The 6'2', 174 lb. led Avon Old Farms to the NEPSAC Elite 8 championship and also tended for the Yale Jr. Bulldogs 18-U AAA squad. He committed in March to the University of Michigan for 2024-25 and is tendered with Bismarck in the NAHL for this fall.
Northport's Tanner Adams is a 5'11", 183 lb. forward skating for Tri-City in the United States Hockey League (USHL). The Providence College commit and Long Island Royals product is ranked 101st falling from 73rd at midterm. He had 11goals with 31points in 48 games this season with the Storm.
Happauge's Michael Hagens is ranked 103rd after the 5'11", 170 lb. defenseman tallied nine goals with 17 assists in 58 games with Chicago in the USHL. He is committed to Harvard this fall.
Fortescue's teammate with the USNDTP, Ryan Fine, is slotted 200th. The 5'7", 177 lb. forward from Center Moriches had a combined 16 goals and 36 points in 55 USHL and USDP games this season. He announced midseason his switch from committing to Boston College to Harvard next fall.
In addition, 2024-35 Cornell University commit and Mount St. Charles Academy forward Chase Pirtle dropped from 141st to 189th. The 6'2", 185 lb. right wing had 17 points in 19 games.
As of April 28th, the New York Rangers and Buffalo Sabres each have one first round selection—the Rangers was acquired from Dallas in the Nils Lundqvist deal. The NY Islanders traded their first rounder in the Bo Horvat deal.