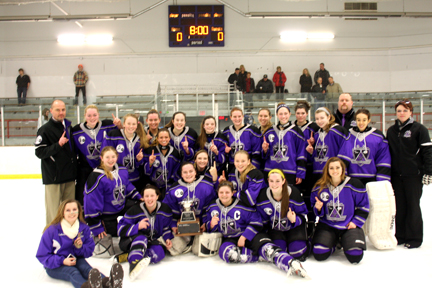 The Monsignor Martin Girl's Ice Hockey Team took home the WNY Girls Varsity Ice Hockey Federation championship for the second time in consecutive years.
Williamsville's Jordan Roetzer opened the scoring at 8:53 of the first period. The game remained scoreless until the second period when Monsignor Martin's Amelia Gajewski tied the game.
Williamsville answered Rachel Grampp answered back at 12:09 giving Williamsville the lead until two minutes later when Monsignor Martin's Brynn Wopperer tied it again.
Holding, body checking and a cross checking penalty showed the intensity the girl's were playing with under Monsignor Martin's Brigid Keane put in the game-winner.
Williamsville's Theresa Meosky made 32 saves and Monsignor Martin's Courtney Wesolowski

made 14 in the 3-2 victory for Monsignor Martin.
Monsignor Martin posted a 20-0 season in 2013 adding to their 35-3-1 overall record. They will enter the 2013-14 season with a 55-3-1 record under Coach Chris Malicki.