By Janet Schultz, Women's Hockey Columnist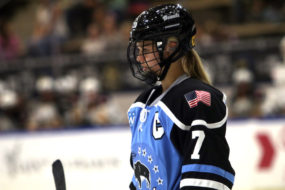 Buffalo native Emily Pfalzer has agreed to terms with the Buffalo Beauts, after spending last season with Team USA and bringing home the gold from the 2018 Olympics.
"I had no doubt that I was coming back, but I just needed time to settle down and take a break," said Pflazer in a teleconference this afternoon. (Aug. 16)
"It will be exciting to keep up the momentum of women's hockey," said Pfalzer, referring to the Olympic gold, the expansion of a team in Minnesota and the Beauts coming into the season as a favorite.
"We need to build on that momentum and grow the women's game how ever we can," she said.
The Pegula's purchase of the Beauts has brought a positive feeling to the arena, the players and the fans seem more excited, according to Pfalzer.
Pfalzer also remarked that signing more Buffalo-born players is definitely a great thing for Buffalo. She has followed many of their collegiate careers and feels they will bring added strength to the Beauts.
The Beauts have signed
Julianna Infallo, Eden/Nichols School;  and Annika Zalewski, New Hartford (NY), Nichols School and Colgate College. Also on the Beauts lineup with WNY ties are Hayley Scumurra (Williamsville/Nichols/Northeastern; Maddie Elia (Lewiston/Nichols/Boston U); Jacqui Greco, Buffalo/Syracuse University; Julia DiTondo (Kenmore/Mercyhurst College) and Emily Janiga (East Aurora/Mercyhurst).
Another plus factor for the Beauts is that Coach Ric Seiling has been head coach since the start of the program and Greg Muni came in the second year. The consistency is what has helped make them a championship contender and the winner of the Isobel Cup in 2017.
The NWHL is a great way for little girls to have female hockey heroes, said Pfalzer, when asked about the expansion and stability of the league.
In Emily Pfalzer's favorite word: this season will be EXCITING.